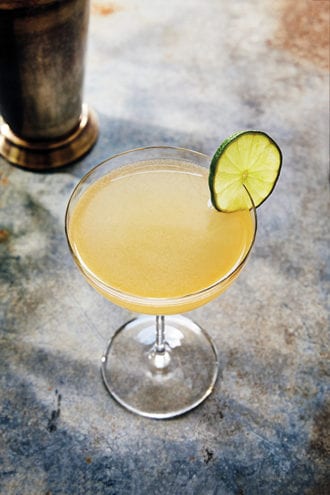 Rich, fruity flavors pair perfectly with overproof rums, and this cocktail matches pineapple with Jamaican rum's complex character. If you're after a less potent drink, try substituting a lower-proof high-ester rum, such as Rum-Bar Silver, for some or all of the overproof rum.
2 oz. white overproof Jamaican rum (such as Wray & Nephew or Rum-Bar)
¾ oz. fresh lime juice
½ oz. pineapple syrup
2 dashes Angostura bitters
Tools: shaker, strainer
Glass: coupe
Garnish: lime wheel
Shake all the ingredients with ice to chill, then strain into a chilled glass. Garnish.
Ian Cargill for Zig Zag Cafe, Seattle
---
Did you enjoy this recipe? Sign up for our newsletter and get weekly recipes and articles in your inbox.