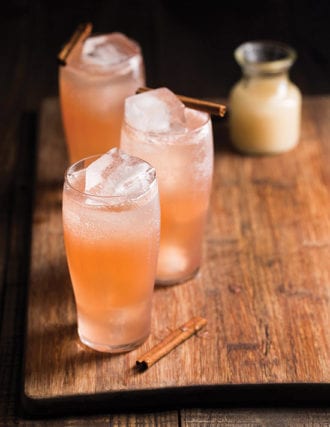 Advent celebrations are a popular part of the season in much of Europe, and Copenhagen bar The Barking Dog created their own version of an advent calendar in the form of cocktails. "Every year we do a Christmas calendar with a new Christmas drink every day," says owner Carl Wrangel. "It's a lot of work but a lot of fun, and this one is a favorite."
1 oz. London dry gin
¾ oz sloe gin
¾ oz. fresh lemon juice
½ oz. cinnamon syrup
Chilled soda water
Tools: shaker, strainer
Glass: Collins
Garnish: cinnamon stick
Combine all the ingredients, except the soda, in a shaker with ice and shake well. Strain into an ice-filled glass and top with the soda, then garnish.
Cinnamon Syrup: In a saucepan, combine 1 cup of water with 1 cup of sugar and bring to a boil. reduce to a simmer and add 3 cinnamon sticks, 3 allspice berries, 1 whole clove and ¼ of a vanilla bean. Simmer for 30 minutes, then add an additional ⅓ cup of water, stir and allow mixture to cool. Strain and bottle for use. Keep remainder refrigerated, and use within 2 weeks.
Bach Nielsen, The Barking Dog, Copenhagen, Denmark
---
Did you enjoy this recipe? Sign up for our newsletter and get our favorite drink recipes of the moment in your inbox every month.