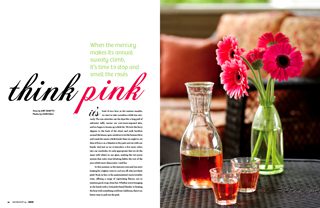 It's kind of nice how, in the warmer months, we start to take ourselves a little less seriously. The sun stretches out the days like a long pull of saltwater taffy, warms our ever-more-exposed skin, and we begin to loosen up a little bit. We kick the furry slippers to the back of the closet and walk barefoot around the house; open windows to let the breezes blow and crank the music a little louder than we ought to; we dine al fresco on a blanket in the park and eat with our hands. And just as we re-introduce a few more colors into our wardrobe, it's only appropriate that we do the same with what's in our glass, making the two-party system that rules wine-drinking habits the rest of the year a little more democratic—and fun.
So this summer, as the mercury rises and you start looking for a lighter wine to cool you off, why not think pink? Rosé, in fact, is the quintessential warm-weather wine, offering a range of captivating flavors, not to mention good, crisp, clean fun. Whether you're lounging at the beach with a Grenache-based blusher or beating the heat with something cool from California, there's no better time to pull out the pink.
Make Me Blush
Years ago, many rosé wines were more of an afterthought for winemakers. Not that there weren't great examples to be had, but there was an awful lot of feh out there, too. "Historically, when you had an area where the grapes didn't do so well, for example, they would make a light rosé out of it," says winemaker Roman Roth of Wölffer Estate in Long Island, New York, whose sales of his baby-pink, incredibly refreshing rosé went from around 80 cases in 1992 to 4,500 with this year's release, all typically selling out by August. "Maybe they were trying to get the color [for a red wine] and they lost it and the fermentations went too hot or they picked unripe."
Today, though, there are ever-higher quality examples of rosé popping up around the globe. Where in years prior, sticky-sweet versions turned many a wine lover off, the rising quality and drier, more refreshing examples on shelves have made many a previous blush-eschewer reconsider. "I remember a lot of rosés used to be on the sweeter side, not that interesting," says Jean Luc LeDû of LeDû Wines in New York City. "Now a lot of houses are dedicated to making dry, lively styles of rosé, which are much more palatable."
LeDû lumps himself into the group of people who used to consider rosé an afterthought. He joined Restaurant Daniel in New York City in 1995 and spent nearly a decade as its wine director (a job that earned him a coveted James Beard Award in 2003). During that time, he says, he would sell around a case of rosé a year; now LeDû sells closer to 150 cases in his wine shop. "Now I taste a lot of them for my store and I see that there's some really interesting stuff being produced," he says. "The quality has shot up tremendously."
To attain that alluring summery spirit of rosé, a winemaker begins with the obvious: red grapes. If you've only ever tasted rosé from Provence, you may be under the impression that Grenache is the main grape used for making all rosé, but rosés can be made from pretty much every red grape under the ripening sun, depending on, of course, what grows well in a particular region. From there, the winemaker may employ one of a few different methods, depending on the resulting style of wine desired. Bleeding, general short-term maceration or a quick press (where the only contact the juice and skins have is during the crush) all result in rosé.
Bleeding. Also called saignée (sahn-yay) from the French verb saigner, which literally means "to bleed." It might sound kind of creepy, but in this instance, it simply means that the grapes are crushed, hang around for up to a day, and then some of the juice from this red-wine fermentation is extracted (or "bled off") and used to make rosé. It often serves a couple of purposes. For starters, the rest of the still-macerating red in the tank is going to be more concentrated due to the fact that there is now less juice having more skin contact; secondly, you get a whole other lovely product (namely, the rosé) out of your red-wine harvest. Saignée rosés tend to be soft and easy-going with a medium hue.
Short-term maceration. Here, a winemaker allows contact for a very specific amount of time between the grape skins and the juice in order to get just the right amount of color and tannin in the resulting rosé. This can be as little as a few hours or as much as a few days, depending upon different factors, such as the type of grape used and the thickness of its skin (thicker skins = more tannins), and the desired resulting color and flavor. Then the juice and skins go their separate ways and it's off to the fermentation tank. These rosés can often be darker in color, as you will find with many versions made in Spain, where some winemakers like to cold-soak their juice on the skins for a day or two for color before separating them and starting fermentation.
Quick press. During this process, grapes destined to be rosé are quickly pressed, and even more quickly the resulting juice is separated from the skins and seeds before starting the fermentation process. The results are pale, pale pink-hued wines with great aromatics and extremely little tannin.
Add to these the méthode champenoise, and you have a fourth style used to make sparkling rosé. Sommelier and Champagne expert Rajat Parr, wine director for Michael Mina and the new RN74 wine bar in San Francisco, particularly admires rosé Champagne for its great versatility with food, ability to age and general aura of festiveness. "What's most interesting is that rosé Champagne has a little more grip; a little more power," he says. "The best rosé Champagnes will have the delicacy of great Champagne, but it will have that underlying tannin, which also adds a lot of spice to it."
Here, skin contact is brief—only a few hours at most, according to Parr, who prefers the saignée method when it comes to sparkling rosé—but it's enough to give the wine a whole other dimension. "If you over-macerate you might get too much bitterness in the juice," he says. "I think the saignée is more interesting because you get the perfect amount of tannins and then the flavor you want in the juice from day one." However, unlike its still-wine counterparts, which tend toward the very affordable, rosé Champagne comes with a much higher price tag—Parr recently sold a 1975 Dom Perignon rosé Champagne for around $1,500, which, unless you happen to own your own endless-acre estate upon which to set a blanket, isn't exactly picnic-wine price range. Luckily, though, that's far more the exception than a rosé rule.
Rosé-Colored Glasses
In fact, wine educator Gary Vaynerchuk, who, along with his family, owns New Jersey's Wine Library and is the host of Wine Library TV, thinks many rosé enthusiasts are in for a banner year, with bargains aplenty to be had. "Globally, I think [rosé] is going to go through an intense close-out phase," he says. "Over the last three years, they did start getting some momentum and some producers got a little too aggressive with pricing and there's been some push-back. You started getting amazing saturation of rosé from, let's say, Spain. It flooded the market and didn't allow demand to catch up with supply. It's going to be amazing for the consumer, though. Rosé fans should keep their eyes open at large retailers. There are a lot of 2007 rosés being discontinued and closed out right now. There's going to be a lot of $5.99 to $12.99 opportunities out there."
If you have Champagne taste on a rosé budget, Parr suggests eschewing his favorite sparkler grape, Pinot Noir, for sparkling wines made from other, similarly thinner-skinned varietals, like northern Italy's Lagrein or Nebbiolo (which also make great still rosé wines called rosato). This, of course, is always a good way to get the most bang for your buck—learning what you like, where it's from and reasonable facsimiles that allow you to drink well for less. Drier-style rosé wines are becoming more and more in demand and, thus, easier to find these days, but looking toward southeast France and also further northwest in the Loire will lead you to beautifully acidic, elegant, food-friendly rosés that will please even the most pink-averse. LeDû suggests looking for Grenache-based rosé from producers like Chateau Pradeaux in the Provençal appellation Bandol, which he says tend to be meatier than your average rosé and are great with typical summertime foods, such as grilled chicken. He also suggests Cabernet Franc-based rosés from the Loire Valley. Or try wine from the town of Tavel in the Rhône, where according to French wine law rosé—and only rosé—may be made from the Grenache, Cinsault and other lesser red varietals that grow there. Here you'll not only find refreshing, strawberry-scented, down-to-earth rosés, but some good bargains, too.
If you like a little more oomph in your rosé, Mario Bai of Wine Lite Imports suggests looking toward Spain's rosados. "Rosados tend to be more powerful, undergoing a longer fermentation [on the skins] to extract deeper colors and aromas," Bai says. "They tend to be darker and have more intense aromatics." The most common Spanish rosés are Garnachas (Spanish for Grenache) from Navarra, with their racy acidity and bright berry notes. Bone-dry Tempranillo rosados are coming into vogue, too, says Bai, thanks to their "intense cherry notes with hints of strawberry and floral aromas. In the mouth the wine is well structured, with well-pronounced flavors, and passes the palate dry, crisp and clean, with an intensity of flavors that begs the question, 'How can you call it a finish if it never ends?'"
While the New World has long had a reputation for sweeter, flabby versions of rosé, this has changed with producers in Oregon and Washington crafting clean, crisp versions. And California, which has long been pigeon-holed as tending toward more sugary rosés, is yielding more restrained, delicate examples these days. There's even a rosé tasting extravaganza called the Pink Out held every May in San Francisco, where since 2003 founder Jeff Morgan, owner of the rosé-only winery SoloRosa ("Only Pink") in Sonoma invites upwards of 75 rosé makers to collectively show off their dry-style versions at the blushy love fest. "I call us the Rose Avengers—avenging the wrongs done to dry rosé!" he laughs.
But it's winemakers like this, devoted to elegant, pretty, structured sippers, who are making those who once snubbed rosé warm up to a cool glass of pink. "People are becoming more knowledgeable and adventurous. I mean, I think rosé is perfect for Thanksgiving! It's a very versatile wine," says Roth. "But you don't want all these big, berry fruits sticking out. It should be an understatement; a subtle elegance and quality—the statement is not to make a statement."
RELATED CONTENT
For our picks of 10 great rosés under $25, check out the July/August 2009 issue.