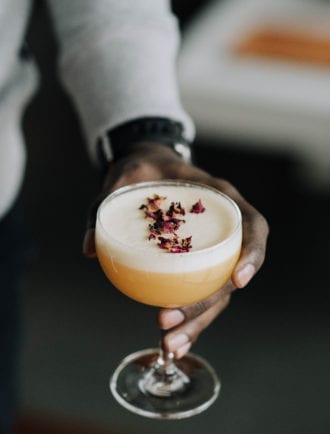 "This is a cocktail that, unnaturally for me, was a name before a drink," says Lady Jane general manager Minetta Gould. "I took the words quite literally here, building a golden cocktail (turmeric, ginger, & orange juice) and used rose as an aromatic instead of within the drink."
1½ oz. gin
¾ oz. fresh orange juice
¾ oz. fresh lemon juice
½ oz. ginger syrup
½ oz. fresh egg white (pasteurized, if you like)
½ tsp. ground turmeric
Tools: shaker, strainer, fine strainer
Glass: coupe
Garnish: dehydrated rose petals
Combine all the ingredients in shaker with ice and shake vigorously. Strain into a mixing glass, dump the ice from the shaker out, and put the cocktail back into the shaker to dry shake one more time. Fine strain into a coupe and garnish.
Ginger Syrup: Peel and juice enough ginger to get 2 ounces of juice. Combine with equal parts white sugar in a saucepan and simmer on low heat to dissolve sugar. Let syrup chill before mixing into the cocktail.
Minetta Gould, Lady Jane, Denver, CO
---
Did you enjoy this recipe? Sign up for our newsletter and get our favorite drink recipes of the moment in your inbox every month.