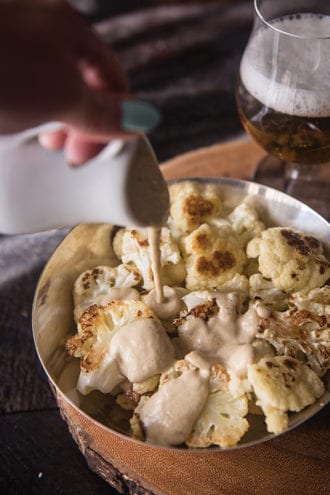 A hearty Belgian dubbel lends a delicious richness to this roasted cauliflower featured in  Lush, the newest book from Jackie Dodd, aka The Beeroness. "Leeks bring a bright, sweet, pleasantly oniony flavor that balances beautifully with the cauliflower," Dodd writes. This recipe makes enough for 4 servings.
1 large head cauliflower, cut into florets
2 Tbsp. extra virgin olive oil
1 tsp. kosher salt, divided
1 tsp. freshly ground black pepper, divided
1 Tbsp. unsalted butter
2 large leeks, white and light green parts only, chopped
¼ cup Belgian dubbel
¼ cup half-and-half
¼ cup reduced-sodium vegetable broth
Preheat the oven to 425°F. Scatter the cauliflower florets on a rimmed baking sheet. Drizzle with the olive oil, ½ teaspoon of the salt, and ½ teaspoon of the pepper, tossing to coat. Roast until a fork easily pierces the cauliflower, about 35 minutes.
Melt the butter in a sauté pan over medium heat. Add the leeks and cook until tender, about 8 minutes. Stir in the beer, half-and-half, broth, remaining ½ teaspoon of salt, and remaining ½ teaspoon of pepper. Simmer until the sauce thickens, about 6 minutes.
Transfer to a blender, allow to cool slightly, and blend until smooth. Transfer the cauliflower to a serving dish. Drizzle it with the sauce if desired or serve it on the side for dipping.
Reprinted with permission from Lush: A Season-by-Season Celebration of Craft Beer and Produce by Jacquelyn Dodd, Agate Surrey, October 2019.
---
Did you enjoy this recipe? Sign up for our newsletter and get weekly recipes and articles in your inbox.