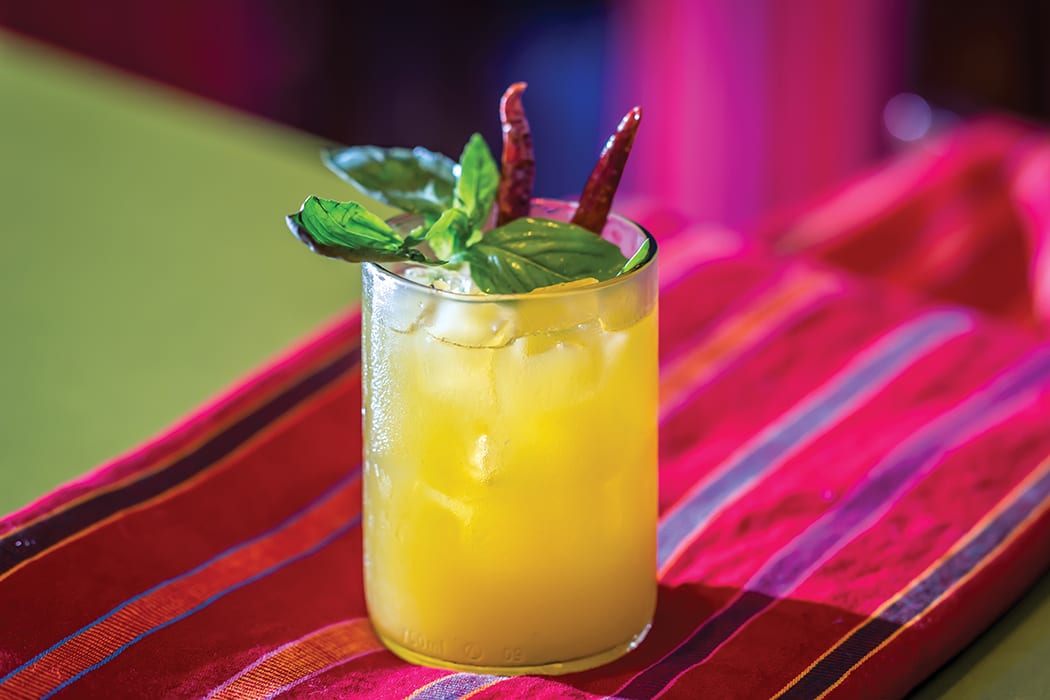 Taking inspiration from the margarita, Courtenay Greenleaf adds a spicy spin to the classic tequila cocktail for Day of the Dead festivities. Spicy chile peppers add a zing to blanco tequila, while citrus and pineapple help soften the mix. Basil adds an aromatic nose—just enough to entice without overwhelming the senses.
2 oz. serrano and jalapeno-infused tequila
1 oz. pineapple juice
½ oz. fresh lime juice
¾ oz. agave syrup
2 basil leaves
2 chile de arbol dried peppers
Tools: shaker, strainer
Glass: double rocks
Garnish: basil leaves and dried peppers
Smack the basil and add to a shaker; add the remaining ingredients. Add ice and shake vigorously. Double strain over fresh ice into a double rocks glass. Garnish.
Serrano and Jalapeno Tequila
1 bottle Corralejo blanco tequila
1 whole jalapeno pepper (remove stem, quarter lengthwise)
1 serrano pepper (remove stem, quarter lengthwise)
Add the jalapeno and serrano to a bottle of tequila. Infuse for a minimum 24 hours to 72 hours. Strain out the solids and pour the tequila back into a new bottle.
Courtenay Greenleaf, Rosa Mexicano, New York City