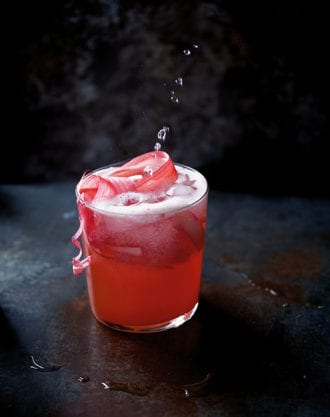 Chez Panisse veteran and Vienna-based food writer Bernadette Wörndl adds tart rhubarb to a vibrant spritz in her new book, Fruit. "Capture the spring, boil it up and turn it into a summer drink," Wörndl says, and who could argue with that? This recipe serves 4.
7 oz. rhubarb syrup
1¼ oz. dry vermouth
¾ oz. gin
Cold sparkling water or prosecco
Tools: shaker, strainer
Glass: cocktail
Garnish: rhubarb strip
In a shaker, combine all the ingredients (except the water or prosecco) with ice and shake well. Strain into 4 chilled glasses, add 1-2 ice cubes per glass and top with sparkling water or prosecco to taste. Garnish.
Rhubarb Syrup: Add 100 grams of sugar to a saucepan over low heat, allowing the sugar to slowly melt without stirring. Zest and juice 1 orange, reserving the zest and adding the juice to the pan, stirring to loosen the melted sugar. Add 3½ oz. of water and boil until the sugar is dissolved and the syrup has formed. Reduce heat to a simmer. Split 1 vanilla bean and add it to the syrup along with the orange zest. Then add 500 grams of chopped rhubarb to the syrup, simmering for 3-4 minutes before straining out the solids. Allow the syrup to cool, it will keep in the fridge for up to 2 weeks.
Reprinted with permission from Fruit: Recipes that Celebrate Nature by Bernadette Wörndl, copyright 2018. Published by Smith Street Books.
---
Did you enjoy this recipe? Sign up for our newsletter and get our favorite drink recipes of the moment in your inbox every month.