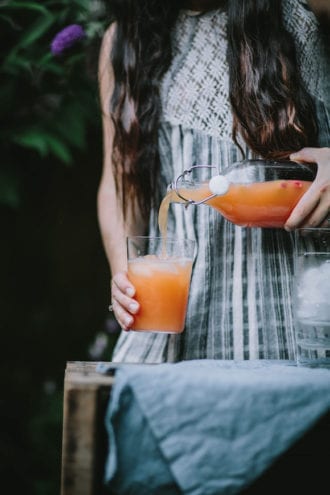 Planter's Punch, the tiki classic with Caribbean origins, has sparked countless riffs over the years. Here, photographer and recipe developer Eva Kosmas Flores gives the drink a seasonal twist with the inclusion of rhubarb-ginger syrup in place of grenadine.
2 cups pineapple juice
1½ cups golden rum
¼ cup fresh lime juice
¼ cup rhubarb-ginger syrup
1 6-inch piece rhubarb, cut
into slices ½-inch thick
In a large pitcher, stir together the pineapple juice, rum, lime juice, syrup and the rhubarb slices. Distribute among four ice-filled glasses and serve.
Rhubarb-Ginger syrup: In a small saucepan, combine 3 rhubarb stalks cut into ½-inch slices, 1 2-inch piece of fresh ginger cut into 4 slices, ¾ cup of sugar and ¾ of water. Bring to a boil over medium high heat. Reduce the heat to low and cook until the rhubarb has nearly disintegrated and the ginger has softened, 10 to 15 minutes. Remove from heat and allow to cool for 5 minutes. Strain the syrup into a bowl and discard the solids.
Serves 4.
Reprinted with permission from First We Eat: Good Food for Simple Gatherings from My Pacific Northwest Kitchen by Eva Kosmas Flores, copyright 2018. Published by Abrams.
---
Did you enjoy this recipe? Sign up for our newsletter and get our favorite drink recipes of the moment in your inbox every month.