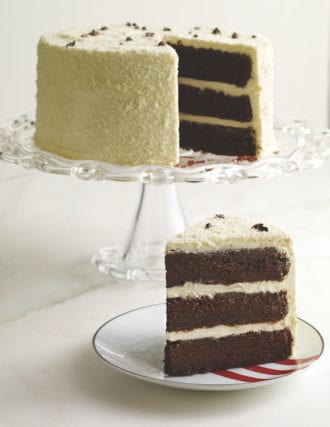 Red velvet cake as we know it today owes its vibrant red hue to a hefty dose of food coloring. But the tint was originally a result of the chemical reaction between the anthocyanins in raw cocoa and the addition of an acid (usually vinegar or buttermilk). Today, most cocoa is alkalized, nixing the reaction and requiring the addition of the dye. But in her new book, BraveTart, pastry chef Stella Parks reclaims the original shade of deep burgundy with the use of raw cocoa and the delicious addition of red wine (which just so happens to be rife with anthocyanins). You could say the resulting cake is a throw-back twist on a classic. "Paired with light and tangy Cream Cheese Frosting, it's everything red velvet should be," says Parks.
Cake Batter
2⅔ cups | 12 oz. all-purpose flour, such as Gold Medal
¾ cup | 2 ¼ oz. raw cocoa powder, such as Navitas Naturals
3½ sticks | 14 oz. unsalted butter, soft but cool—about 65°F
2 cups gently packed | 16 oz. light brown sugar
2¼ tsp. baking soda
1 tsp. kosher salt (half as much if iodized)
½ tsp. ground cinnamon
2 Tbsp. | 1 oz. vanilla extract
6 large eggs, brought to about 70°F
1½ cups | 12 oz. dry red wine, such as California Cabernet Sauvignon
To finish:
One 3- or 4- oz. block or bar white chocolate
2 Tbsp. | ½ oz. cocoa nibs
To better synchronize the downtime in both recipes, make the cream cheese frosting before the cake. While it's cooling, adjust oven rack to the lower-middle position and preheat to 350°F. Line three 8-by-3-inch anodized aluminum cake pans with parchment and grease with pan spray. (If you don't have three pans, the remaining batter can be held at room temperature for up to 3 hours.)
Sift flour and cocoa (if using cup measures, spoon into the cups and level with a knife before sifting); set aside.
Combine butter, brown sugar, baking soda, salt, cinnamon, and vanilla extract in the bowl of a stand mixer fitted with a paddle attachment. Mix on low speed to moisten, then increase to medium and cream until fluffy and light, about 5 minutes, pausing to scrape the bowl and beater halfway through. With the mixer running, add the eggs one at a time, mixing until each is fully incorporated before adding the next.
Reduce speed to low and sprinkle in one-third of the flour/cocoa, followed by a third of the red wine. Alternate between the two, allowing each addition to be roughly incorporated before adding the next. Fold batter with a flexible spatula to ensure it's well mixed from the bottom up. Divide among the prepared cake pans (about 22 ounces each).
Bake until the cakes are domed and firm when gently pressed, about 30 minutes. A toothpick inserted into the center will emerge with a few crumbs still attached. Cool until no trace of warmth remains (the domes will level off in time), about 90 minutes.
Loosen the cakes from their pans with a knife, invert onto a wire rack, peel off the parchment and re-invert.
Custard Cream Cheese Frosting
1½ cups | 12 oz. milk (any percentage will do)
1 vanilla bean, split lengthwise
1 cup plus 2 Tbsp. | 8 oz. sugar
⅓ cup | 1 ½ oz. cornstarch
3 large eggs, straight from the fridge
1 Tbsp. vanilla extract
2 cups | 16 oz. full-fat cream cheese, cool but soft—about 62°F
3 sticks | 12 oz. unsalted butter, cool but soft—about 62°F
2 Tbsp.| 1 oz. freshly squeezed lemon juice
In a 3-quart stainless steel saucier, bring the milk and vanilla bean to a simmer over medium heat. Remove from heat, cover, and steep 30 minutes. Alternatively, cover and refrigerate for up to 24 hours to extract the deepest vanilla flavor.
Whisk the sugar and cornstarch together in a medium bowl, followed by the eggs.
Return milk to a simmer. Remove vanilla bean, scrape the flavorful pulp into the milk, and discard the pod. Ladle ½ cup of hot milk into the eggs, whisking to combine. Repeat with a second and third ladleful, then pour the warmed eggs into the pot and cook over medium heat, whisking constantly, until the custard turns thick and lumpy, about 3 minutes. Once it begins to bubble sluggishly, continue cooking and whisking for 2 full minutes, to neutralize a starch-dissolving protein found in the yolks; the custard should be very smooth. Remove from heat and stir in vanilla extract.
Pour the custard into a baking dish about 7-by-11 inches to speed the cooling process. Press a sheet of plastic against the surface and refrigerate until thick and cool, about 1 hour (or roughly 68°F). Alternatively, refrigerate for up to 1 week, then let stand at room temperature until warmed to 68°F before proceeding.
In the bowl of a stand mixer fitted with a paddle attachment, beat the cream cheese and butter on medium speed until fluffy and light, about 5 minutes. Meanwhile, stir the thick pudding until smooth. Scrape the bowl and beater with a flexible spatula, then switch to the whisk attachment. Whipping on medium speed, add pudding a few tablespoons at a time, then drizzle in lemon juice. Scrape the bowl once more and whip for a few seconds to ensure that no lumps remain. The buttercream should be light and creamy, but thick enough to hang upside down from a spoon.
If the buttercream seems stiff or dense (feeling greasy rather than melting on your tongue), scoop a cup of it into a small bowl and microwave until completely melted, about 30 seconds. Return the melted buttercream to the bowl and whip for 15 seconds on medium-high. Conversely, if it seems loose or gooey, refrigerate the entire bowl for 15 minutes, then whip for 3 minutes on medium-high. Use immediately, or set aside at cool room temperature for a few hours, until needed, and rewhip before use. If making ahead, the frosting can be refrigerated for up to 3 weeks or frozen for up to 3 months in an airtight container. Soften to about 66°F at room temperature (about 12 hours if frozen or 5 hours if refrigerated) and rewhip before using.
To crumb-coat the frosted cake, shave the white chocolate with a coarse-bladed Microplane and use a spoon to sprinkle white chocolate over the top and sides of the cake. When fully covered, scatter the cocoa nibs on top to mimic ermine "spots." If you take a step back and fling the nibs like you would a Frisbee, they'll stick to the sides in a random yet natural pattern (spoiler alert: It's really, really fun).
Under a cake dome or an inverted pot, the frosted cake will keep for up to 24 hours at room temperature. After cutting, wrap leftover slices individually and store at room temperature for up to 3 days more. Yields one 8-by-4-inch layer cake, about 16 servings.
Reprinted with permission from BraveTart: Iconic American Desserts, copyright 2017 by Stella Parks. Published by W.W. Norton and Co.
---
Did you enjoy this recipe? Sign up for our newsletter and get our favorite drink recipes of the moment in your inbox every month.