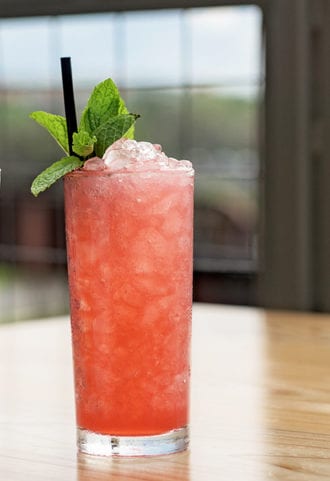 From the Booze Your Own Adventure menu at Boiler Nine in Austin, this refreshing highball was inspired by the flavor intersections of the Paloma and Donga Punch, a tiki cocktail discovered by Jeff "Beachbum" Berry made with rhum, Don's mix and lime juice. "The flavors in the Red Macaw naturally pair with tequila and light rum, but each base spirit creates a uniquely different, delicious cocktail," says beverage director Jason Stevens. Mezcal, aged rum, gin and grappa also work well.
1¼ oz. base spirit (Stevens suggests blanco tequila, rhum agricole, vodka)
3½ oz. grapefruit soda (Stevens uses San Pellegrino)
½ oz. hibiscus concentrate
¼ oz. fresh lime juice
Few drops of saline solution (1:1; optional)
Tools: barspoon
Glass: Collins
Garnish: mint sprig, grapefruit peel
Build all ingredients in a tall glass. Stir briefly to mix. Top with crushed ice. Garnish.
Hibiscus Concentrate
13 oz. vodka
1½ cups dried hibiscus blossoms
4 sticks canela, crushed
Combine all ingredients and let steep for 24-48 hours. Strain out solids and bottle. Yields 12 oz. Lasts for 6 months.
Jason Stevens, Boiler Nine Bar & Grill, Austin
---
Did you enjoy this recipe? Sign up for our newsletter and get our favorite drink recipes of the moment in your inbox every month.