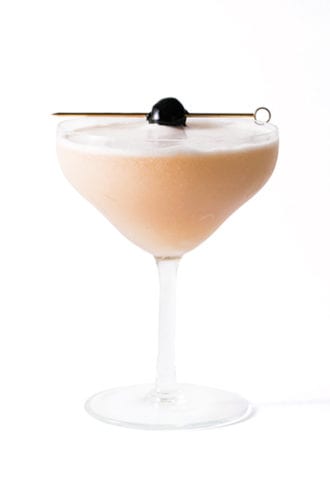 Let's dismiss the notion of "girly drinks" from the start. While in color and name the Pink Lady cocktail may present an archetypically feminine façade, there's nothing gender-specific about its formula and flavor. "I don't really think this is a 'girly' drink," says Christy Pope, co-creator of Midnight Rambler in Dallas, which serves a Pink Lady dressed up with hibiscus grenadine and a touch of saline, with a spritz of cassia essence to finish. "When made properly, there's a lot of complexity to this cocktail and, in general, it's not a 'sweet' drink but rather a crisp and dry cocktail."
The gender bias becomes all the more irrelevant when you consider the similarity between the Pink Lady and its close cousin, the Clover Club. Invented in the early 20th century and named for the venerable Philadelphia men's club, the Clover Club combines gin, lemon juice, grenadine and an egg white. The only difference in the Pink Lady? A good measure of applejack, which not only added an extra punch but made for a tastier drink.
As Ted Haigh put it in his book Vintage Spirits & Forgotten Cocktails, in which he refers to the drink as the "Secret Cocktail" so as to avoid discrimination on nomenclature alone, "Who was smarter, the guys or the dolls? Jury is in. The women win." Why not put the acrimony aside and call a delicious drink what it is? Then everyone wins.
1¼ oz. gin
¾ oz. applejack
½ oz. fresh lemon juice
½ oz. grenadine
1 egg white (pasteurized, if you like)
Tools: shaker, strainer
Glass: cocktail
Garnish: cherry (optional)
Add all the ingredients to a shaker and shake without ice to froth the egg white. Add ice and shake well, then strain into the chilled glass and garnish if desired.
Adapted from Vintage Spirits & Forgotten Cocktails by Ted Haigh
---
Did you enjoy this article? Get more of the best of liquid culture when you sign up for a print or digital subscription to Imbibe Magazine. Click here for special savings!