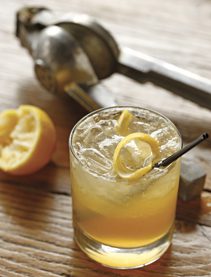 Bartender Colin Shearn says this cocktail can be made by substituting the syrup, lemon juice and club soda for an equal amount of Dr. Brown's Cel-Ray soda. Otherwise, the syrup (and infused rye) should make enough for at least a dozen drinks.
1½ oz. infused rye whiskey (see below)
1 oz. celery simple syrup (see below)
½ oz. fresh lemon juice
1 oz. club soda
Tools: shaker, strainer
Glass: rocks
Garnish: lemon twist
Combine the first 4 ingredients in a shaker with ice. Shake well and pour into an ice-filled glass. Top with club soda and garnish.
Pumpernickel-and-Caraway-Infused Rye Whiskey
750 ml. bottle rye (Shearn uses Jim Beam)
½ loaf pumpernickel bread, sliced
2 Tbsp. caraway seeds
Toast the slices of pumpernickel and place in a large container with an airtight lid. Toast caraway seeds in a sauté pan over medium heat until they become very fragrant, and add them to the toasted bread. Pour rye over bread and cover. Refrigerate for two to three days. Strain rye into a bottle and discard the bread and caraway seeds.
Celery Syrup
1 ½ cups water
1 cup sugar
1 celery stalk, cleaned and thinly sliced
1 Tbsp. celery seeds
Dissolve the water and sugar in a saucepan over medium heat. Add the celery and celery seeds and lower heat. Simmer until celery is tender, approximately 10 minutes. Carefully process syrup in a blender until smooth. Strain into a bottle and refrigerate.
Colin Shearn for Zahav Restaurant, Philadelphia