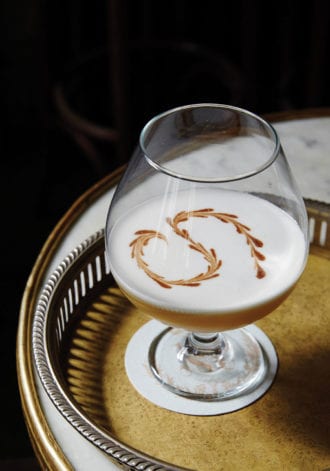 Maison Premiere's Will Elliott tinkered with variations on this classic cocktail for several months before finding the key to its puzzle when considering the glassware. "I needed a glass that could allow you to stick your nose in and sniff the absinthe," he says, leading him to choose a snifter, which had an added benefit of creating a broad surface of foam on which to perform a little bitters-based artistry.
1¾ oz. rye whiskey
¾ oz. fresh lemon juice
½ oz. demerara simple syrup (1:1)
¼ oz. absinthe (plus a few drops for the atomizer)
1 large egg white (pasteurized if you prefer)
Tools: shaker, strainer, atomizer (optional), toothpick
Glass: snifter
Garnish: Angostura bitters
Shake all the ingredients with ice until the drink is chilled and very foamy; strain into a chilled snifter. Spritz the foam with an atomizer filled with absinthe (or drip a few drops of absinthe on the drink's surface) and carefully add drops of bitters to the foam's surface to create an s-shaped pattern. Use the tip of a toothpick to connect the droplets into a snake shape.
Adapted by Will Elliott, Maison Premiere, New York City
---
Did you enjoy this recipe? Sign up for our newsletter and get our favorite drink recipes of the moment in your inbox every month.