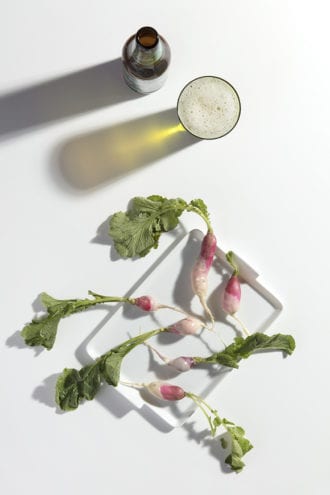 Nothing says spring like the fresh crunch of a radish, and this recipe for radishes with hop butter takes the snack to a new level of deliciousness.
2 bunches small radishes, preferably French Breakfast
½ lb. (2 sticks) unsalted butter
2 to 3 wholecone hops or 2 teaspoons hop pellets
Pinch of freshly grated lemon zest
Kosher salt
Freshly ground black pepper
Trim the bottom of each radish, making sure to leave any healthy tops intact, and set aside.
In a saucepan, melt the butter over low heat, then add the hops. Make sure to keep the butter on low enough heat to ensure that it doesn't break. Remove the pan from the heat and let cool to room temperature. Strain the hops out and discard them.
Transfer the butter to the bowl of a stand mixer fitted with the paddle attachment and whip the butter until it's light and fluffy. Fold in the lemon zest and season to taste with salt and pepper.
Dip each radish in the butter; coat about half of the radish if your radishes are mellow, or coat the whole radish if they have a stronger flavor. Smooth the butter with the back of a spoon to evenly coat the radish, and transfer to a parchment- lined platter. Refrigerate until the butter has formed a glossy coating around the radishes. Serve the radishes on a platter with extra hop butter on the side. Makes 4 to 6 servings.
Reprinted from The Beer Pantry: Cooking at the Intersection of Craft Beer and Great Food by Adam Dulye and Michael Harlan Turkell. Copyright © 2018 by W&P. Published by Dovetail Press (www.dovetail.press).
---
Like what you see? Get more of the best of liquid culture when you sign up for our bi-monthly magazine. Subscribe now and save up to 59%—it's just $21.95 for one year or $32.95 for two years. Click here for details.