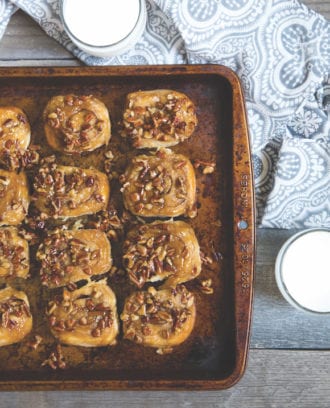 These quick-bread Märzen Pecan Caramel Rolls are made with a traditional Oktoberfest-style beer that's full-bodied and has lots of toasty malts. It's a perfect complement to the rich caramel sauce and crunchy pecans.
2 cups unbleached all-purpose flour
1 tsp. baking powder
½ tsp. fine sea salt
⅓ cup cold unsalted butter, cubed, plus 1 Tbsp. softened
4 oz. märzen, room temperature
1 Tbsp. packed dark brown sugar
½ tsp. ground cinnamon
Topping
¼ cup packed dark brown sugar
2 Tbsp. light corn syrup
2 Tbsp. unsalted butter
1 oz. märzen beer
½ cup chopped raw pecans
Preheat the oven to 375°F. Grease an 8-inch square pan with butter.
For the rolls, stir together the flour, baking powder, and salt in a medium bowl. Add the cubed butter, and use a pastry blender or two knives to work the butter into the flour until the mixture is in pea-sized pieces. Pour in 4 ounces of beer and stir until a dough forms. Knead the dough into a ball.
Roll the dough on a floured surface into a 9-by-12-inch rectangle. Turn the rectangle so that the long end faces you. Rub the softened tablespoon of butter over the dough. Sprinkle it with 1 tablespoon of the brown sugar and cinnamon. Start from the bottom and roll the dough into a log. Tuck in each end. Set aside.
For the topping, melt ¼ cup of the brown sugar, corn syrup, and 2 tablespoons butter in a small saucepan over medium-high heat, just until the sugar is dissolved, about 3 minutes. Remove from the heat. Stir in 1 ounce of beer. Return to medium heat and cook, stirring often until the sauce begins to thicken and coats the back of a spoon, 3 to 4 minutes. Adjust the temperature to keep the sauce from coming to a full boil, which will make the beer taste bitter. Pour the sauce into the prepared baking pan and sprinkle in the pecans.
Use a serrated knife to cut the log into 10 to 12 rolls. Place the rolls, cut side down, in the baking pan. Bake for 23 to 25 minutes, until the caramel sauce bubbles and the rolls are browned around the edges. Remove from the oven and let the rolls cool for 5 minutes. Place a large platter or baking pan over the rolls. Invert the pan to release the rolls onto the platter. Scrape any extra caramel sauce out of the baking pan and onto the rolls. Serve warm.
Reprinted with permission from Food on Tap: Cooking with Craft Beer. Copyright 2017 by Lori Rice. Published by Countryman Press. 
---
Did you enjoy this recipe? Sign up for our newsletter and get our favorite drink recipes of the moment in your inbox every month.