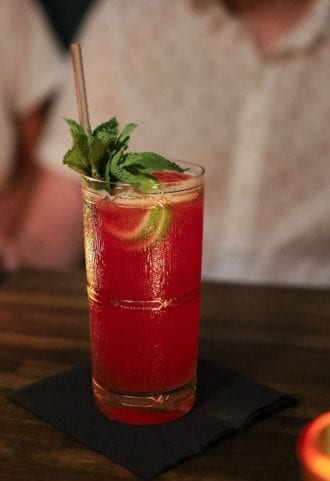 Hibiscus brightens this rye-based Queen of the Damned cocktail from Scotch Lodge in Portland, Oregon.
1½ oz. rye whiskey
½ oz. Cognac
¾ oz. fresh lime juice
½ oz. hibiscus cordial
¼ oz. Amaro Nonino
Tools: shaker, strainer
Glass: Collins
Garnish: mint and lime wheel
Shake all of the ingredients with ice, then strain into a glass filled with fresh ice. Garnish.
Hibiscus Cordial: In a pot, bring 4 cups of water to a boil, then turn off heat and add 1 oz. of hibiscus tea and steep for 10 minutes. Add 1 oz. of peeled, sliced ginger, 2 cinnamon sticks, 6 allspice berries, 2 whole cloves, the peeled zest of 1 lemon, and 3 cups of sugar, and bring the mixture to a low simmer. Allow ingredients to steep for another 15 minutes, stirring to ensure all the sugar has dissolved. Remove from heat and let sit overnight, then strain and bottle for use within 2 weeks.
Matt Kesteloot, Scotch Lodge, Portland, Oregon
---
Did you enjoy this recipe? Sign up for our newsletter and get weekly recipes and articles in your inbox.