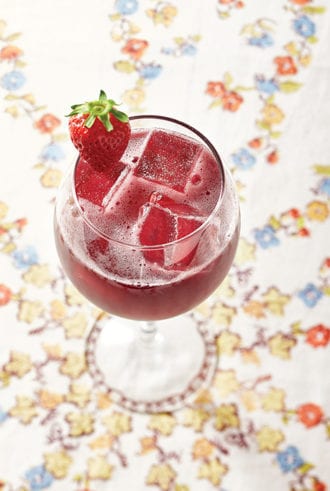 Wanting to create a summery cocktail that echoed the fruitiness of sangria, Sarah LM Mengoni tasted through all of the by-the-glass wines at Double Take in Los Angeles. "It was the flavors of black pepper and strawberry in the Syrah that I really honed in on," says Mengoni, who made a fresh strawberry syrup and peppercorn-infused vodka to amplify the flavors. "The wine isn't just the inspiration for this cocktail, it's the backbone."
3 oz. Syrah
¾ oz. black peppercorn–infused vodka
1½ oz. strawberry syrup
¾ oz. fresh lemon juice
Tools: shaker, strainer
Glass: wine
Garnish: whole, fresh strawberry
Shake all the ingredients with ice, strain into an ice-filled glass, then garnish.
Strawberry Syrup: Juice fresh strawberries in a juicer (or pureé the fruit in a blender and press through a fine-mesh strainer) to yield 1 cup of strawberry juice. Combine with 1 cup of granulated sugar and mix until the sugar dissolves, then bottle and chill. Keeps refrigerated for up to 2 weeks.
Black Peppercorn–Infused Vodka: Combine 10 grams (about 2 tsp.) of black peppercorns with 1 cup of vodka in a sealable glass container and let sit for 24 hours. Strain through a coffee filter and bottle for use.
Sarah LM Mengoni for Double Take, Los Angeles 
---
Did you enjoy this recipe? Sign up for our newsletter and get weekly recipes and articles in your inbox.