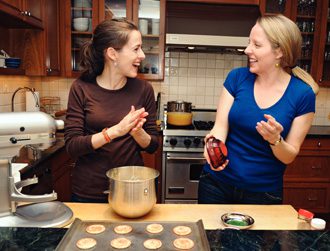 Our March/April 2012 issue celebrates the people and places that flavor the food and drinks landscape of New York, and one local who's long been ingrained in that scene is Amanda Hesser (pictured, left). An award-winning cookbook author and former New York Times staffer (she even played herself in the film Julie & Julia), Hesser co-founded the popular community- and recipe-driven website Food52.com. Here, she chats about a few of her favorite spots around the city to stop in for a drink, some of her favorite Manhattan-made food memories, and what she pours herself at the end of a long day.
Imbibe: You originally studied economics and finance, so at what point did you decide that writing about food would become your life's work?
Amanda Hesser: While I was in college, I studied in London and traveled around Europe a bunch. That's when I realized that I was really interested in food and culture and thought I'd pursue it in some way. But I don't consider writing about food as my life's work. Although I have written a number of books and was a reporter and editor at the New York Times for a decade, I'm not writing much at all anymore. I've started a business with my friend Merrill—Food52—and for now, building this business is my focus. I think my life's work is more about creating things as well as about writing.
Imbibe: For your most recent book, The Food 52 Cookbook, you and your business partner Merrill Stubbs curated recipes from home cooks across the country—what inspired this approach to putting together a cookbook?
AH: There were a number of influences, but one of the most important reasons was that home cooks did not have a voice in the online food conversation. There were plenty of places where home cooks could upload recipes, but there wasn't a site where these recipes could be filtered so the best recipes could be recognized and the best cooks could be celebrated. We created Food52 to do this, and creating the cookbook along with our community was our first project. Every week we named recipe themes, people from all over the country uploaded their recipes, and through our testing and voting system, the winning recipes went into the cookbook.
Imbibe: You were also a longtime New York Times staffer and have lived in New York for some time—what have been some of your favorite food and drink memories in NYC?
AH: Sitting on the High Line eating popsicles from Peoples' Pops with my kids. Having dinner at Blue Hill with my husband—eating foods raised around New York City.
Imbibe: What are a few of your favorite drinking spots around New York?
AH: I really like the bar at Maialino, and as long as someone else is treating—hint, hint—the drinks and the view from the BoomBoom room are tough to beat. Six Point is making some great beer these days. And I'm glad Blue Bottle has finally planted its flag in NYC.
Imbibe: We heard you were fired from your first bartending job—were you really that bad?
AH: Yes. I was that bad. I was also 18 (in Pennsylvania then, you could legally bartend before you could legally drink) and hadn't drunk much other than beer, so I had no appreciation for what makes a good drink. And I was slow. Bad combo. But I do have a degree from Boston Bartenders School.
Imbibe: When it comes to food and drinks, do you have any guilty pleasures?
AH: I never feel guilty for eating or drinking something I like! As for something that I like that doesn't necessarily fit with the other foods I buy—I really love Fritos.
Imbibe: You've authored numerous cookbooks, launched an iPad app, and have a busy website to boot—with all of that going on, what do you pour yourself at the end of the day to kick back?
AH: Bourbon. Hudson Baby Bourbon. Bulleit. The like.
TAGS: {cptags}