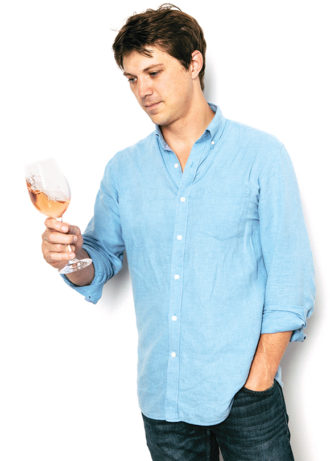 You probably won't catch filmmaker Jason Wise using flowery wine descriptors over his next glass of Riesling, but the acclaimed director has succeeded in teaching the rest of us how to understand the process of wine tasting and evaluation. Wise is best known for his documentary SOMM, a film that follows the trials and tribulations of four sommeliers as they prep to pass the grueling Master Sommelier exam. Now, three years of production later, the film's follow-up, SOMM Into the Bottle, hits iTunes this week. We caught up with Wise to hear more about his wine adventures.
Imbibe: What inspired you to make another film about wine?
Wise: Honestly, I fought the idea of making another film in the world of wine very hard, but there was a lot of unfinished business for me from the first film. SOMM as a film is mostly about a test and not really about wine; Into The Bottle represents the concentration of over seven years of experiences I have had or witnessed in the wine world since embarking on my first film. It uses the wine list as a springboard to show the incredible stories great wine professionals see when they open it up and look at expensive and rare wines. What we end up with is the most sweeping film I could create about the most complicated thing on the dinner table. The journey that wine has taken through history to become what it is now is incredibly complicated. But enjoying it should be simple.
In an interview for the first installment of SOMM, you said, "I think filmmakers who make films about wine make the mistake of thinking wine is interesting. And it's not." What did you do with SOMM: Into the Bottle to make wine interesting for people?
I still feel the same. A bottle of wine doesn't move; it sits there waiting for a reason to be opened, and you can only talk about the mechanics of producing it for so long. Wine has witnessed countless wars, religions that either revered or banished it, politics, trends, bullshit, artists who made it perfectly, and others who only made it for money. I threw all of this at the subject of wine in my next film because wine is about so much more than [turning] fruit into a drink with alcohol. Someone has to open it and they should have a reason.
What producer did you meet that you think should be on people's radar?
Steve Matthiasson, a winemaker from Napa, is the main character of a segment dealing with the earthquake in Napa. Steve's wines are fantastic, seriously great, but when you begin to understand the man's drive and his raw talent for making wine you know anything he is going to make is worth trying. Side note: his white Napa wine blend and sea urchin is one of the best pairings on earth, in my opinion.
What are some of your go-to wine styles in winter?
Sherry, especially more nutty oxidized ones like amontillado, remind me of being comfy in winter. I also filmed a lot in Germany for the next film, and while there I became extremely fond of drinking Riesling while it's cold outside. For me, the acidity in Riesling cuts through a lot of the comfort food I like to eat in winter, and though it might seem counterintuitive to drink cold white wine in the cold, it is fantastic.
What do you think is the most exciting trend happening in wine right now?
I think the greatest trend is that people are beginning to realize that good wine is often some of the least expensive. Across the board, the best wines in my opinion are in the $18 to $40 range. Italian whites like Verdicchio, rosé wines, fino sherry, even a ton of good red Bordeaux is inexpensive, you just have to look deeper, and people seem to be interested in doing that now.
Do you find yourself adopting some of the sommelier lingo since starting this journey?
I really, really try not to, but sometimes it's unavoidable. My mom asked me what some of the really old bottles we filmed for the movie tasted like, and I do find myself telling her that the 1962 Clos Ste. Hune tasted like toasted bread.
What tasting terms do you think are the most evocative?
Anything having to do with meat: Decaying animal carcass, stewed lamb, and crispy duck fat. I love those, and in a few cases they actually make sense.
What's next? More wine movies, or are you moving on from the topic?
SOMM II was the last film I can ever make as an outsider to the wine industry. If I ever do another one, it will be from a very different point of view. I'm not necessarily done with wine, but we'll have to see if wine is done with me. My next film is a dream project of my wife and I, about a 91-year-old Hollywood actress who has seen it all. She's the Forrest Gump of entertainment, and it's an unbelievable story.