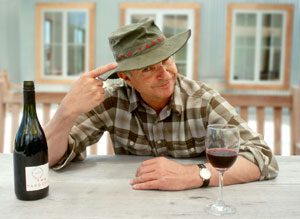 While you probably recognize him as the paleontologist who was attacked by raptors in Jurrasic Park or as the ill-fated Cardinal Thomas Wolsey in Showtime's The Tudors, when he's not on a movie set, actor Sam Neill relishes the role of New Zealand winemaker. Since 1993, in between filming and promotional tours, Neill has tended to Two Paddocks, his New Zealand wine estate. He recently took a few minutes to discuss how he balances these dramatically different worlds.
Imbibe: Are there any similarities between your acting jobs in Hollywood and being a New Zealand wine proprietor?
Sam Neill: Probably very few, although it's true to say that winemakers and actors both like nothing better than a good review. We're suckers that way.
Imbibe: What do you think is the biggest misconception about being an actor and/or a windemaker?
SN: It is a commonly held misconception that most actors these days spend their spare time in the gym. We just pretend to be fit. It is also a common misconception that most winemakers are drunks. Like Dean Martin, we just pretend and are actually usually found in the gym.
Imbibe: How has your acting career in influenced your love of winemaking?
SN: A producer once brought a couple of bottles of Latour '82 for our table. It was a seminal moment-never, alas, repeated.
Imbibe: Is there any one character or role you've played that you closely identify with?
SN: Dean Spanley (Miramax will release the film this year in the U.S.) is uncommonly affected by Tokai, for which he has an enormous affection. For me it's Pinot Noir.
Imbibe: What's your most prized possession in your wine cellar?
SN: A vertical library, if there is such a thing, of all our vintages since the first in 1997.
Imbibe: What's your drink of choice after a long day in the vineyard/winery?
SN: Probably a cold beer. Just the one, thanks.
Imbibe: Do you have a favorite cocktail?
SN: I haven't mixed a drink for years, but last time it was probably a Gin and Tonic. I might have one tomorrow, now that I think of it.
Imbibe: When it comes to drinks, do you have any guilty pleasures?
SN: When on holiday I always make sure I have one of those absurd rum-based things in unlikely colours with an umbrella on top. What am I saying—one? "Plenty" would be more honest.
Imbibe: What one drink tool or gadget can you not live without?
SN: Well, obviously a corkscrew. But these days I use one less and less. I'm all for screw tops. Never a disappointment.
Imbibe: What are you drinking with dinner tonight?
SN: Since you asked, a 2005 Michaud Brouilly. Not bad, although Gevrey-Chambertin is more my thing. Or a Two Paddocks.