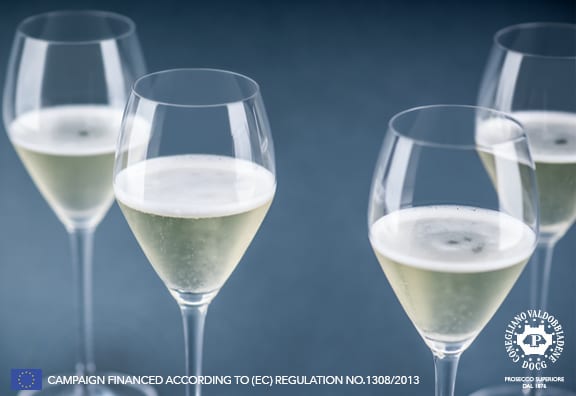 Choosing wines during the holidays can be a daunting proposition, especially when you start looking at the sparkling wine category—Champagne or prosecco? Cava or American sparklers? The choices abound, and each involves its own vernacular—trying to decode a label can be a challenge of its own. In an effort to help alleviate some of this guesswork, the Prosecco Superiore DOG has put together some easy-to-understand definitions and guidelines for selecting your next bottle from Conegliano Valdobbiadene, known as the birthplace of prosecco. Here are some highlights to help you pick your bottles with more confidence, and head here for even more information.
Figuring the Fizz
There are three different types of prosecco DOCG: spumante (sparkling), frizzante (fizzy) and tranquillo (still).
Spumante: 95% of Prosecco Superiore DOCG production is spumante, which is further classified as brut, extra dry or dry.
Frizznate: This is a gentler bubble style that's known for its floral and fruity character.
Tranquillo: This is the oldest type of prosecco. The color is a light straw-yello with a fruity, nutty aroma.
Factoring in Sweetness
Prosecco Superiore DOCG ranges from dry to sweet. Dry is the sweetest style, known for its prominent fruity character. Extra dry is the most traditional style of Prosecco Superiore and less sweet than dry. Brut is the driest style with the least amount of residual sugar. Brut wines tend to have fine bubbles and more of a mineral quality.
Reading the Label
There are a few things to keep an eye out for on a prosecco label:
Vintage (aka millesimato): 85% or more of the wine comes from the same vintage year.
Rive: All of the grapes from one of 43 towns or hamlets, designated by name and term rive. Rive wines must be vintage-dated.
Cartizze: This means a wine is made of grapes from the Cartizze subzone and indicated as Valdobbiadene Superioire di Cartizze DOCG.
Superiore: Refers to Spumante Prosecco DOCG.
Here's a decoded label that breaks things down even more: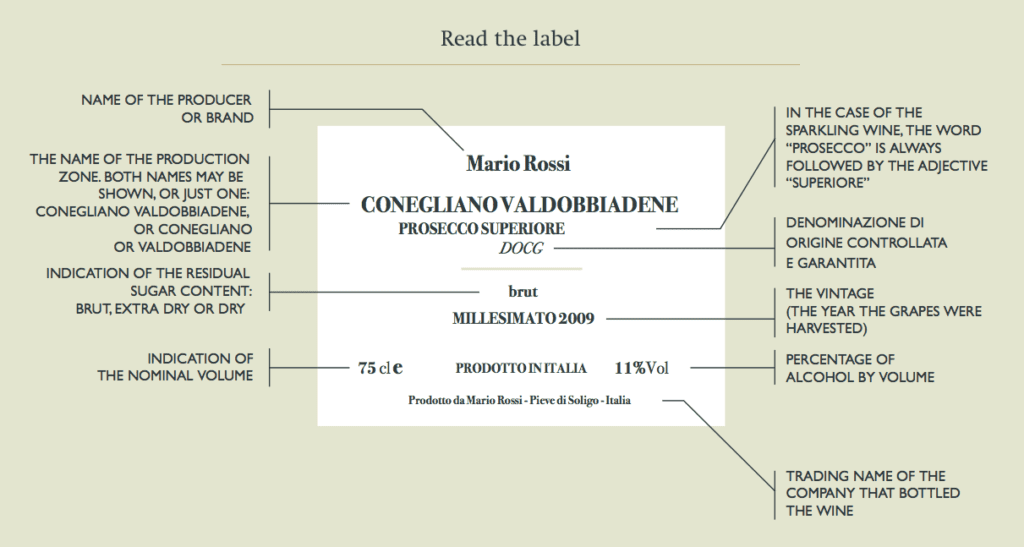 3 to Try
Nino Franco "Rustico" Valdobbiadene Prosecco, $13
At only $13 a bottle, this wine represents a fantastic value. Expect a crisp backbone with some lovely floral notes.
Prosecco "Cartizze Superiore" Col Vetoraz, $42
This floral, fruity bubbly comes from the Cartizze region, which is located in the heart of the Valdobiaddene wine-growing area, known for its excellent prosecco.
Carpene Malvolti Prosecco di Conegliano NV, $18
This dry prosecco is light and refreshing with fruity notes of apple and pear.