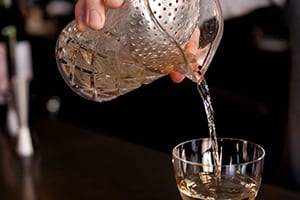 This cocktail is as sleek and stylish as the posh London neighborhood it's named after.
1¾ oz. Aviation gin
½ oz. dry vermouth
¼ oz. maraschino liqueur
1 barspoon Fernet-Branca
Tools: mixing glass, barspoon, strainer
Glass: cocktail
Combine all ingredients in a mixing glass. Add ice and stir to chill. Strain into a chilled glass.
Erik Carlson, Bastille, Seattle