PEARL DISTRICT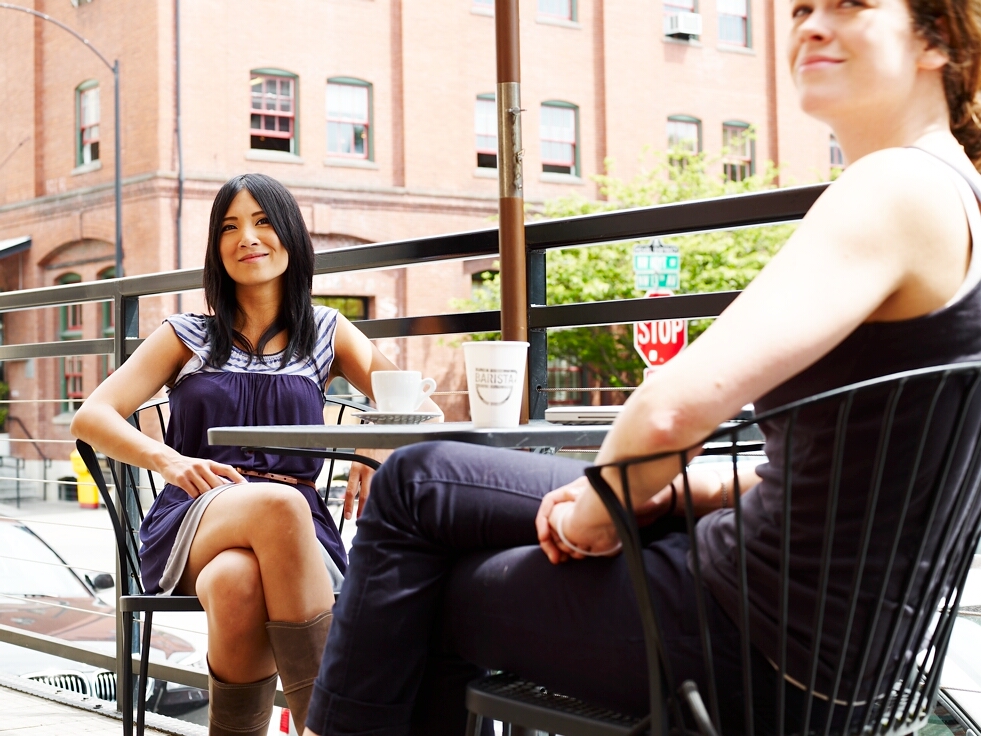 Walking among the towering condos and well-groomed brick façades of Portland's Pearl District, it's hard to imagine that just a few years ago this trendy neighborhood was nothing more than a heap of abandoned warehouses and industrial concrete lots. But nearly a decade later, this area in northwest Portland shines like a diamond in the rough, attracting some of the city's most innovative restaurants, cafés and bars. Start your morning by queuing up at award-winning barista Billy Wilson's Barista coffeehouse, where coffee drinkers have the rare opportunity to choose between several different roasters and brewing methods for their morning cuppa.
Continue to build your appetite by straying a half-block west onto N.W. Flanders St. to Rogue Distillery & Public House, where award-winning beers and spirits make appearances not only behind the bar, but on the food menu as well. (Try the hazelnut cheesecake made with their Hazelnut Spiced Rum!)
Back on N.W. 13th Ave., favorite lunch spot Bluehour satisfies suits and tourists alike with its $20 prix fixe lunch menu, inexpensive by-the-glass wine list and mile-long selection of single-malt scotches and small-batch bourbons. From here, stray off of N.W. 13th Ave. onto N.W. Everett St. for cocktails at Teardrop Cocktail Lounge, where bartenders use fresh-squeezed juices and housemade tinctures and bitters in seasonally changing cocktails (like the Sophia Loren, featured in the May/June 2009 issue).
If beer is more your speed, you'll find plenty of options within a few blocks: Henry's 12th Street Tavern boasts one of the biggest beer lists in the city with seasonal favorites and hard-to-find imports being poured from among their 100 taps while a stop at Deschutes Brewery get you a taste of several pub-exclusive Deschutes beers that never make it to the bottling line.
For dinner, reserve a table at Ten 01 where the 40-page wine list includes options that range from budget-friendly (like a $25 Oregon Pinot Gris) to extravagant ($1,200 for a bottle of 1996 Pétrus). Ten 01's wine program shares the stage with expertly crafted cocktails and a food menu that garner national recognition. Cap off the night with a performance at the historic Gerding Theatre at the Armory (whose bar always features Pacific Northwest wines and beers), located just around the corner from Ten 01, or step across the street to browse the aisles at the massive Powell's City of Books, where a million-book inventory is studded with hundreds of new and out-of-print cookbooks and bartender guides and coffee from World Cup Coffee & Tea.
Of course, this is just one possible route to take through the Pearl. There are plenty of other great options for the intrepid explorer. Rogue and Deschutes aren't the only local breweries in the neighborhood: BridgePort's outpost on the northern edge of the neighborhood is a popular spot for craft brews and weekly trivia nights. Heading back from BridgePort on 13th, you'll see Paragon, where you can slurp oysters on the half shell and enjoy creative cocktails like the Laissez les Bons Temps Roulez (rye whiskey, Cherry Heering, Domaine de Canton, Marteau absinthe and orange bitters); the outdoor balcony is prime seating during warm weather. And for some indoor fun, try Tea Zone, which serves both tea and cocktails and hosts a series of movies and live music.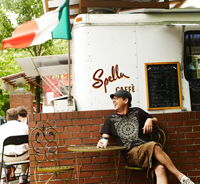 From TeaZone you can also head three blocks east, where you'll find the venerable Park Kitchen, a perfect place to experience Portland' seasonal cuisine and cocktails, and another quarter of a mile east will land you at Gilt Club, a fantastic spot for well-crafted classic and contemporary cocktails. Alternatively, if you cross Burnside and head toward the southern edge of the Pearl District (i.e., into downtown), you'll discover a whole different range of options. During daylight hours, it's worth checking out the food carts at S.W. Alder and Ninth, where you can sample everything from burritos to Croatian fare; be sure to check out Spella Caffe for quality espresso or scrumptious affogato. Or head indoors to the Stumptown Coffee at the Ace Hotel. Ready for a cocktail? Next to the Ace is Clyde Common, with its long list of whiskeys and cocktails both original and classic, not to mention delicious meals made with local produce. Afterward, across the street and check out an art-house film at Living Room Theaters. Movie theaters serving beer and wine are a proud Portland tradition, but Living Room distinguishes itself by offering a full bar as well, plus a food menu that goes far beyond the typical pizza and popcorn.
For more Pearl District destinations, check out explorethepearl.com.
BELMONT & HAWTHORNE
From tattooed hipsters to 30-something yuppies, Southeast Portland's Belmont neighborhood is home to all walks—and it has the coffee shops, teahouses and bars to match. Sip pu-erh, kombucha or oolong tea in the Zen-like setting of the granddaddy of Portland teahouses, the Tao of Tea, or shop from packaged loose-leaf teas and imported teaware next door in their Leaf Room. For more of a coffee jolt, look no further than Stumptown Coffee Roasters, whose Belmont location opened in 2001 and is just two doors down from the Annex, where pour-over coffee and bags of fresh-roasted beans are arranged in a flash, and without the line that oftentimes forms at the café.
Sandwiched between Stumptown and its Annex is the Aalto Lounge (3356 S.E. Belmont St.; 503-235-6041), which gives a nod to Scandinavian designer Alvar Aalto not only in name, but also in its cool, minimalist décor, modest but well-chosen beer and wine list, and simple but tasty cocktails (if the weather's nice, take your drinks out back to the patio). Just another stone's throw west down Belmont, Opposable Thumb Gallery + Café (3312 S.E. Belmont St., 503-235-0146) offers perfectly extracted espresso from local roaster Ristretto, free wifi and a solid sandwich and salad menu (not to mention cool local art hanging on the walls).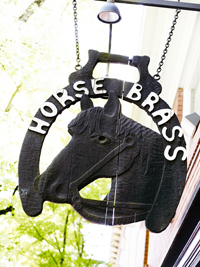 If you happen to be on bike instead of foot, head about 10 blocks down Belmont to Portland's original beer mecca, the Horse Brass Pub, where for more than 30 years the legendary Don Younger has managed to snag the most obscure and delicious of microbrews to serve to thirsty patrons. And if you've made it all the way there, you might as well stop by beer shop extraordinaire Belmont Station, some four blocks north, to shop for a few local bottles to take home with you.
Alternatively, six blocks south will take you to S.E. Hawthorne Blvd., where you can grab an expertly crafted coffee or espresso at Albina Press (no website, 5012 S.E. Hawthorne Blvd., 503- 282-5214) before heading a few blocks down to Apizza Scholls for some of the city's best pies and a killer beer list. Farther west down Hawthorne you'll find more delicious brews at the Fresh Pot coffeehouse, as well as at BridgePort Alehouse (bridgeportbrew.com), where happy hour gets you one of their cask-conditioned ales and a natural, grass-fed burger for a mere $10. For those wanting a more sophisticated dinner, a reservation at Belly Timber, a few blocks west of BridgePort, is a good bet. Situated in a classic Victorian house, this restaurant pairs savory dishes like Coho salmon and roasted quail with inventive cocktails like the Papillon (with green Chartreuse, Cognac and homemade cinnamon tincture) and the Tamarind Daisy (with gin, tamarind juice and rhubarb bitters). Castagna offers another great dinner option farther down Hawthorne, with one the best burgers in Portland, not to mention fresh, seasonal cocktails and a well-chosen wine list.
ALBERTA
Most people will suggest visiting Alberta Street on the last Thursday of the month, when the Northeast-quadrant neighborhood gives itself over to street performers and sidewalk vendors, and the thoroughfare's many galleries and boutiques stay open late and offer special sales. But the truth is that Alberta is worth a visit any day of the month. Spanning some 20 blocks, this ever-evolving commercial district seem sprawling, but if you've got comfortable shoes and a day to wander around, the stretch between 10th and 30th avenues offers plenty of places to refresh yourself before heading farther down the street.
Starting at 10th, stop by the Bye and Bye (no website, 1011 N.E. Alberta St., 503-281-0537), where you can enjoy a quintessentially Portland combo: vegan food and Belgian beer. Or for more traditional bar food, grab a microbrew and some fried calamari at the multilevel Radio Room, a casual and frequently crowded spot that often gets overrun by members of Recess Time, a local recreational league that celebrates sports like bowling and kickball. For a more sedate experience, keep walking another four blocks to Every Day Wine, a cozy little wine shop and tasting room where most bottles stay in the $10–15 range and a sleepy black Lab is frequently napping in one armchair. Owner Beth Boston hosts Friday wine flights where $12 gets you five pours of thematically arranged wines, and since she doesn't serve food, she encourages customers to bring their own.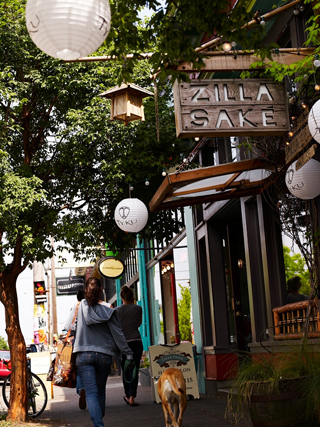 Can't decide between coffee and cocktails? Have both at Random Order. Free wifi is a major lure for locals at this small coffee shop, but we recommend stopping by for the freshly baked pies in an ever-changing spectrum of seasonal flavors (on our last visit, those included rhubarb-cardamom and peach-raspberry with Amaretto). As for cocktails, check out their Iced Irish Coffee, featuring cold-pressed coffee and Irish whiskey, or Peg Leg, with ginger-infused rum, bitters, ginger ale and lime. More coffee and sweet treats beckon a few doors down at the airy Petite Provence, and tucked between these two caffeinated gems is a small, subtle storefront marked Zilla. Enter its dark wooden interior and you'll encounter one of the city's more unusual bars, specializing almost entirely in sake. This is the place to taste between nigori and nama, or between ginjo and daiginjo. They also serve some tasty sushi.
Keep ambling down the street and you'll spot the Hilt (no website, 1934 N.E. Alberta St., 971-255-1793), a newly opened bar with indie punk music and 10 taps behind the bar, most devoted to local microbrews. For more great local beer, keep walking to 22nd Ave. and turn right, where the spacious and often raucous Mash Tun Brewpub (no website, 2204 N.E. Alberta St., Ste 101, 503-548-4491) offers a rotating selection of housemade brews, as well as a half-dozen visiting microbrews.
At this point, you might be in need of a little detoxification, so cross to the other side of Alberta and enter the zen-like oasis Townshend's. In fact, this tea shop even offers a custom herbal infusion called Detox, made with fenugreek, burdock, anise and dandelion root. Or maybe you're hungry: Try Ciao Vito for reasonably priced Italian-inspired fare, as well as an impressive list of primarily Italian wines and grappas, plus cocktails like the La Firenza, which combines bourbon with myrtleberry liqueur. Bonus points for a happy hour that runs from 4 to 8 p.m. on weeknights.
You'll pass plenty of bars and restaurants along the next few blocks. Each has its strengths: Francis is known for its "build your own Bloody Mary" option (try it with locally made aquavit); Peruvian restaurant Del Inti is the place for Pisco Sours and a seat by the outdoor fire pit, Siam Society offers Asian-inspired cocktails and delicious Thai food; Binks (no website, 2715 N.E. Alberta St., 503-493-4430) is the place to go for super-casual socializing of the pizza'n'beer variety.
But it's in the last block of major commercial development—between 29th and 30th avenues—that Alberta really overwhelms a casual stroller with options. Hit the secluded back deck of Bernie's Southern Bistro for a Southern spin on the Sidecar (made with bourbon instead of Cognac). Nearby is the newly opened Branch Whiskey Bar (no website, 2926 N.E. Alberta St., 503-284-9600), where there's plenty of the namesake spirit on hand, as well as expertly m
ade classic cocktails and a few intriguing originals, like the Give Me Three Steps, which marries imported Mexican Coca-Cola with whiskey that's been infused with smoke from Cabernet wine barrels. At the far corner stands the bright and cheerful Lolo, where classic tapas are paired with a thoughtful selection of mostly Spanish wines. Check out the beer list, too: It's small, but always has at least one surprising option, like the Brazilian black beer, Xingu.
So far, we've stuck with the southern side of the block, but across the street, an array of other options await. Tour de Crêpes (no website or phone, 2921 N.E. Alberta St.) is one of those cheerfully DIY-style places that gives Portland so much of its character; it's essentially a food cart with a brightly painted, one-room cabin stuck in front of it for a dining area. No liquor license, but the Lemonade Nojito (mint-infused lemonade and Perrier) makes for a nice palate-cleanser.
The sign above Concordia Coffee House just says "COFFEE," and that's what you smell, rich and comforting, as you walk in the door of this mellow and unpretentious neighborhood joint. The beans come from Stumptown, and the baristas do them justice. Once you're properly refreshed, it's time for one last stop to buy a few souvenirs of your time on Alberta, so head to Cork . The placard outside boasts of the store's 100 wines, all priced at under $20 a bottle, but Cork is more than a wine shop. One corner is devoted to gourmet chocolates (including delectable truffles from local chocolatier Alma), while another is given over to a selection of large-format rare beers like Urthel Hop-It and Mikkeller Not Just Another Wit. Gourmet finishing salts, preserves and pickles round out the offerings, making this the perfect pre-party stop for a hostess gift.
Ready to go home? Not so fast: We've saved a little local secret for you at the end. Most tourists get to 30th Ave. and assume they've seen all this district has to offer, but if you turn left and head a few blocks north, you'll discover a small slice of foodie heaven located at the intersection of 30th and N.E. Killingsworth St. (This is another fine Portland tradition: unlikely locations becoming culinary hubs.) You can't go wrong with any of Micah Camden's projects—it's more a question of what you're in the mood for, be it modern pan-Asian and sake at Yakuza, communal multi-course dining at Beast, or ultra-intimate Italian (you enter through the kitchen) at D.O.C., where you can end your meal with vacuum-pot coffee brewed tableside. And for coffee sans dinner, try Extracto.
Finally, for toasting your friends with Portland's drink of choice—namely, local beer—walk a few blocks around the corner to the Kennedy School, one of many enterprises run by local brewers the McMenamin Brothers. These two local boys have been converting historic properties into brewpubs and entertainment venues for years. The Kennedy School (which, yes, used to be a school) boasts the requisite brewpub and restaurant featuring McMenamins beers but also holds a movie theater, event space, soaking pool and 35-room hotel. And, hey, after the walk you just took, you could probably use a place to sleep!
MISSISSIPPI
Not long ago, the Mississippi District, centered around Mississippi Ave. and Failing St., was considered a rough, undeveloped part of town. In the past few years, however, a thriving retail district has sprung up in this North Portland neighborhood—one that's filled with casual, funky and often inexpensive places to eat and drink.
Starting at the southern end of the strip at N. Fremont St., grab a pint of housemade hibiscus juice and a soft taco filled with locally sourced pork from Por Qué No Taqueria. The tiny eatery fills up fast, but a generous helping of sidewalk seating makes it easier to snag a table. Next, grab a local brew and catch some live music next door at Mississippi Pizza Pub, or keep strolling north to the large, tent-covered patio of Amnesia Brewing (no website, 832 N. Beech St., 503-281-7708) and enjoy freshly brewed beers (we love the chocolaty Slow Train Porter) along with grilled sausages and a casual, laid-back vibe. (Amnesia's also a prime example of Portland's dog-friendly ethos—expect to share your picnic table with at least one canine companion on most visits.)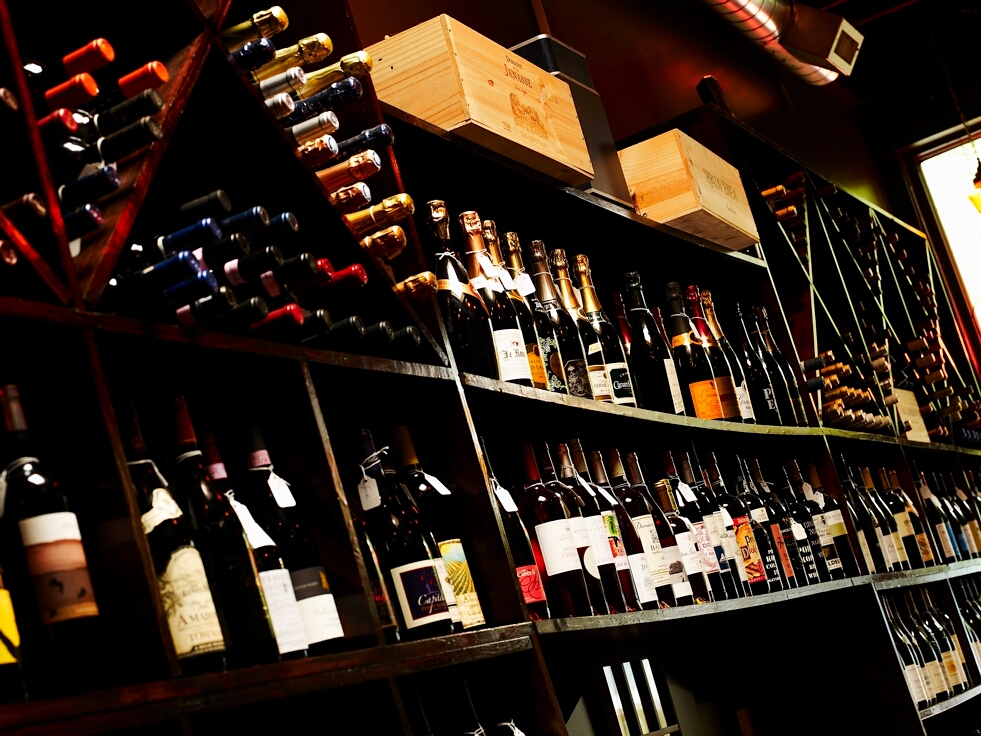 If wine's more your thing, switch to the opposite side of Mississippi Ave., where two good options await: Lorenzo's and Lupa. The former is the better option if you're really hungry—this casual (there's that word again) Italian bistro turns out homey and authentic plates of fresh pasta, most for under $12. Their ravioli of the day is always worth ordering, and the wine list is carefully limited to a dozen Italian options, all available by the glass. While you're there, duck into the tiny storefront a few doors south called The Meadow, which specializes in fresh flowers and a tantalizing array of gourmet chocolates, salts, spices and wines. Lupa, meanwhile, is the place to go for serious wine-tasting. Bottles line one wall of this narrow bar, all of which can be purchased to go or opened at the bar. The by-the-glass selection is always changing based on what owner Amanda Prock has recently sampled and enjoyed.
For high-end beer in a low-key atmosphere, the willfully divey Crow Bar has a list that's far more ambitious than the décor would suggest, and for carryout beer, try the newly opened bottle shop Bridgetown Beerhouse, whose small environs is packed full of specialty microbrews like Ninkasi and Lagunitas. At this point, you're probably ready for a little caffeine. And you're in luck: Just across Shaver is the Fresh Pot, a relaxing coffeehouse with award-winning baristas. When it's open, check out the aqua-colored vintage RV trailer next door: Moxie Rx serves up some of the best breakfast biscuits in town, as well as wholesome smoothies and, on occasion, addictive iced Mexican Coffee. Moxie is part of a citywide culture of great food being served from carts, trailers and small shacks: For another example, walk a few blocks north to the endearing Junior Ambassador's, a wooden shed serving inventive ice cream flavors like Maple Strip Tease (with real bacon in it) and Strawberry Chipotle.  On your way there, you'll pass the Albina Press (no website, 4637 N. Albina Ave., 503-282-5214), another terrific spot for espresso. You'll also pass two great options for dinner: tapas restaurant Casa Naranja and the always-crowded Lovely Hula Hands.
Amazingly, all of what we've described so far is contained within an eight-block walk. If you have energy to explore farther, backtrack to Failing (one block south of Shaver) and walk east about a third of a mile until you cross Vancouver. There you'll find outposts of two very different Portland mini-chains sitting side by side. The Fifth Quadrant is part of the Old Lompoc group of brewpubs, serving their trademark microbrews along with burgers and other pub fare. And then there's Pix Pattisserie, whose founding concept is so brilliant that it's hard to believe it isn't replicated more often: a bar serving dessert (or, viewed another way, a French bakery that serves dessert-friendly beverages like Cognac, Port and Belgian beers). Ever wanted to try an ice cream float with lambic? Pix has one on the menu. Or, if you prefer your beer unadorned, Lompoc just opened its tasting room, Sidebar, where they serve special limited-release and barrel-aged beers unavailable in the main pub.
Meanwhile, just across the street is Ristretto, where you can pick up a pound of locally roasted coffee and grab an expertly pulled version of their namesake shot, while you're at it. And for a delicious dinner and small but lovely list of seasonal cocktails, head next door to Lincoln, where you can wind down with a Sterling Cooper cocktail combining gin, lime juice, basil syrup, yellow Chartreuse and soda water.
Finally, we have one last place to suggest in the Mississippi District. Remember where you started, at Mississippi and Fremont? Go south instead of north for one short block, past what looks to be an abandoned lot, and then turn right onto Cook St. There, you'll see a bright-pink wooden house with a wide porchfront. That's Liberty Glass (no website, 938 N. Cook St., 503-517-9931), an antler-bedecked eatery that feels like sitting in your granddad's living room. All cocktails are served in plain glass tumblers—we like to pair the Romanza (gin, Campari, grapefruit juice) with a savory cheese-and-sausage plate, though the mac'n'cheese is highly recommended if you're hungry enough to do it justice. Alternatively, you could just sip Whiskey Sours on the porch and congratulate yourself for having discovered a hidden example of Portland's easygoing charm.