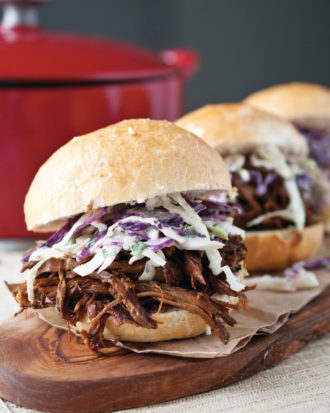 A double dose of beer flavors these melt-in-your-mouth pulled porter-braised pulled pork sandwiches. Serve with IPA-Jalapeño Slaw for best results.
For the pork:
3-pound pork shoulder
6 cloves garlic, peeled
2 Tbsp. kosher or sea salt
2 Tbsp. brown sugar
1 tsp. black pepper
1 tsp. smoked paprika
2 tsp. chili powder
2 tsp. onion powder
2 Tbsp. olive oil
24 oz. porter beer
1 cup beef broth
For the IPA jalapeño slaw:
1 large jalapeño, stem and seeds removed, chopped (about ⅓ cup)
2 cups purple cabbage, thinly sliced
2 cups green cabbage, thinly sliced
¼ cup cilantro, chopped
½ cup sour cream
½ cup IPA
1 Tbsp. lemon juice
1 Tbsp. sugar
¼ tsp. chili powder
¼ tsp. salt
12 round kaiser roll sandwich buns
Preheat oven to 300 degrees F.
Using a paring knife, create 6 2-inch-deep holes fairly evenly spaced through the meat. Push a peeled clove of garlic into each hole until garlic is no longer visible.
Sprinkle the pork evenly with salt.
In a small bowl mix together the brown sugar, pepper, paprika, chili powder, and onion powder. Rub the spices all over the surface of the pork.
In a large oven-safe pot or Dutch oven (with an oven-safe lid), heat the oil until hot but not smoking. Sear the meat on all sides, about 3 minutes per side.
Add the beer and broth; bring to a simmer.
Cover and place in the oven. Turn the meat over every 30–45 minutes. If the pot begins to dry out, add extra broth or hot water. Allow to cook until meat is falling apart, 3–4 hours.
Remove from oven. Shred meat in pot, using two forks. Leave in the pan juices for 10 minutes while you prepare the jalapeño slaw.
To make the slaw, combine all ingredients in a medium-sized bowl; toss to coat.
Remove meat from pan juices, draining off most of the liquid prior to serving. Fill each sandwich bun with pork topped with slaw.
Serves 12.
Excerpted with permission from The Craft Beer Cookbook­ Copyright © 2013 by Jacquelyn Dodd and published by F+W Media, Inc.