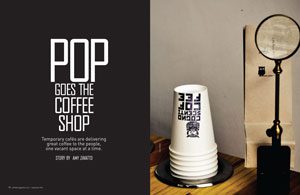 Cognoscenti Coffee has changed locations twice, but its devoted fan base has stayed with it—even though the Los Angeles coffee bar has only been open for a year, including all three incarnations. Granted, he brews great coffee (with beans from San Francisco roaster Four Barrel Coffee), but how has proprietor Yeekai Lim managed to build a following so quickly, and to change locations with ease, when so many new shops take a year just to turn on the open sign? The answer is simple: Cognoscenti is a pop-up shop. It's one of a number of temporary coffee bars popping up around the country, usually within the climes of other brick-and-mortar businesses. (Cognoscenti lives inside Proof, a bakery in L.A.'s fast-rising Atwater Village neighborhood—for now.)
So what's the difference between a pop-up and a coffee cart or kiosk? For starters, pop-ups are temporary, but they also tend to be countercultural in their approach. " 'Pop-up' is a loose term for a temporary setup that is done under the radar," says Lim. "It's kind of a guerilla approach to serving the public without the conventional advertising and signage." They're designed to deliver expertly brewed coffee to the masses with little start-up time and without much up-front cash—unlike, say, a coffee truck, which can require a decent investment between buying, repairing and building out a vehicle or trailer. Pop-ups are generally spare and slim by design, made to be easily broken down and moved to a new location on a whim.
These fly-by-night coffee bars have taken a cue from the fashion world's pop-up boutiques, which began showing up in the early 2000s. Designers and major brands like Levi's will open temporary shops for a day, a week or a season, in vacant retail spaces or lofts, creating a marketing and sales frenzy. Chefs have also jumped on the bandwagon: When Zak Pelaccio decided to fold his casual New York City Mexican restaurant, Cabrito, but with plenty of time left on the lease and his liquor license intact, he opened the pop-up bar Fatty Johnson's for a few months while he got more permanent plans for the space underway. (An all-star list of guest bartenders included David Wondrich and Greg Seider.)
Getting to Know You
For Lim, the pop-up model has worked incredibly well. He's gained quite a bit of traction via Twitter and caffeine-craving bloggers. He started Cognoscenti Coffee inside Burbank's Urban Eats, where he perched for a month; he then roosted for seven months in Blue Dot, an açai and yogurt spot in Eagle Rock, a trendy neighborhood adjacent to his current spot in Atwater Village. He was inspired in part by his city's think-outside-the-building creativity: L.A.'s food truck scene is legendary. Lim, who formerly ran an architecture practice, was attracted by the notion that an idea can be just as solid as the walls that surround it. "Espresso extraction takes 25 to 30 seconds, but a building could take up to five years to complete," he says. "Yet all the variables for both are equally complex and volatile to manage."
But while Lim knew L.A. had rallied around the trend of food trucks and pop-up restaurants, he was less sure about how this would translate to coffee—another reason a pop-up made practical sense: He was able to test the waters and find out who his customers were without having to go into debt, particularly reassuring during a recession. "Compared to other cities like Portland, Seattle or New York, L.A.'s coffee culture was still in fruition," he says. "The pop-up coffee offered both an economically viable entity to serve the public and a gauge of multiple neighborhoods."
While the oddball factor of a here today, gone next month coffee bar might seem impractical for many entrepreneurs, it's also become an ingenious way for some not-yet-opened businesses to start creating a buzz while they ready their permanent digs. Stumptown Coffee and Danny Meyer's Union Square Hospitality Group ran a pop-up in the Whitney Museum in New York this winter in order to hold over thirsty art-lovers while USHG prepared its permanent café, Untitled, in the museum. And in Oakland, California, Heather Sittig ran a pop-up coffee bar in front of the space she and her partners were readying for their new restaurant, Toast Wine Lounge.
Serving take-out cups of their own organic coffee blend (custom-roasted at McLaughlin Coffee in nearby Emeryville) alongside scones from Oakland's Butterfat Bakery let curious residents not only get a caffeine fix, but also a peek at the new spot in their neighborhood. It also gave the business an opportunity to work out some kinks before the doors officially opened—sort of the ultimate soft opening. "We hired a spectacular staff and wanted to get them used to working with each other prior to opening our restaurant."
It seems to have done what Settig had hoped. "The pop-up shop has been a very good way to spread the word early and gain a little market traction prior to opening," she says. "Everyone asks about when we'll open as a restaurant, and they're eager for our grand opening. We've even gained press, founders and investors as a result."
Matt Milletto, co-owner of Water Avenue Coffee in Portland, Oregon, popped-up a coffee bar—cheekily named Temporary Coffee—in the vacant space next to the permanent café he was building out. A longtime coffee pro, Milletto knew part of the key to success for a temporary operation was keeping things simple, only offering a limited espresso menu and drip coffee in two sizes—8 and 12 ounces. Also, Milletto kept things cash-only. "That allowed us to seamlessly open up Water Avenue Coffee and train a couple new baristas who worked the pop-up shop."
Pop Culture
Where some pop-ups excel is in the business of brand blitzing—when a company that's got some cash to throw around wants to extend its image and uses the smell of coffee to lure in new customers. For a month in 2007, the international coffee company Illy parked a fully functional, modern shipping-container home inside New York's Time Warner Center in an effort to market the company's Hyper Espresso system.
But brand-building pop-ups have their critics, starting with Ken Nye of New York's Ninth Street Espresso. Nye is the kind of stickler who will obsessively grind and weigh his beans over and over throughout a day (or even an hour) in order to make sure that potentially changing atmospheric elements aren't messing with his coffee's mojo. To him, the notion of a temporary café leaves too many important factors of a great shot in a vulnerable position. "I probably built and operated what was the most expensive pop-up coffee bar ever done," he says. "Altoids did a run of pop-up stores because they were introducing chocolate into their line of products. They wanted to pair coffee with this, so they came to me with a sky's-the-limit budget."
Nye insisted on building a proper coffee bar, using the same equipment he uses at his Ninth Street spots, with proper plumbing and water filtration systems, the works. "We pulled it off, but I still think the quality [of the coffee] wasn't there," he says. "On a scale of 1 to 10, and our normal is 10, this was a 7. And it's just because there are so many factors you don't have control over and don't expect."
Was it popular? Hugely. For that week-long run, Nye's baristas never stopped. "Altoids promoted the hell out of it," he says. And it didn't hurt that the coffee was free. "It was talked about by every medium out there, and there was a line out the door every day. We had three people working at all
times—the machine never stopped operating from open until close every day."
Still, for Nye, popularity doesn't equate success. "What I found was if we had charged money like most pop-ups want to, people would have been like, 'Screw this!' And even as a freebie, you just can't control quality. I did the most extensive pop-up you could do for a one-week run, and it sucked."
But Humberto Ricardo, co-owner of tiny, two-year-old Third Rail Coffee in New York's West Village, had a different experience. Last summer, he and partner Rita McCaffrey ran a three-month-long pop-up that bordered on the meta: a temporary coffee bar that existed within another pop-up done by London-based cycling-gear outfit Rapha. "Obviously, they wanted to develop brand awareness, and since traditionally there's been a strong hook between cycling and coffee, it made sense," says Ricardo.
The online company dreamed up the concept of two temporary shops—one in London, one in New York—where cyclists could gather and watch the Tour de France while sipping macchiatos. They got the coffee bar up and running in just a month's time. "It was crazy," Ricardo recalls. Crazy, but great. He admits that building a full-service café that was meant to be torn down was a challenge. "We saved and reused as much as possible," he says. "A lot of it was easily disassembled shelving that either went into our 'real' store or went into storage to be used in the next [pop-up]. The countertops we used were butcher block so a local woodworker friend of ours cut them down (in exchange for some coffee and the scraps) to use as cutting boards in our homes."
But he loved all the benefits that the pop-up offered. "Our [permanent] café is tiny and cozy," he says. "We really love what we've created, and we love small, intimate spaces, but you can't have a massive party there," like the latte art competition Ricardo threw at the pop-up, drawing coffee pros and on-lookers from across the city. "We had a lot of fun and we built a lot of community with our peers."
Another example of pop-up goodwill is the summer-long stint that Stumptown founder Duane Sorenson put together in Amsterdam last year. In his frequent layovers in the city during sourcing trips to Ethiopia, Sorenson had never found the kind of coffee he wanted. He was approached by the Montreal-based advertising agency Sid Lee to do a three-month pop-up after the agency opened a studio in Amsterdam. Sorenson sent over his own baristas and a steady supply of beans (roasted at Stumptown's New York roastery), but there wasn't much else he had to do. "One side was the design studio, and in the back of it was a sort of private space where they already had their own personal coffee bar set up," says Stumptown's Matt Lounsbury. The bar had a street entrance onto the busy Albert Cuyp Market, so foot traffic wasn't an issue. Stumptown secured a loaner espresso machine from La Marzocco, the Sid Lee folks decaled the back wall of the space with their own interpretation of Stumptown's logo, and they were up and running.
Lounsbury says locals embraced the Pacific Northwest pop-up, and Stumptown kept the focus on education. Baristas held free daily cuppings and tastings, where they demonstrated various brewing methods and gave "try this at home!" instructions to locals who might want to brew Stumptown-style coffee long after Sorenson's traveling coffee band packed up and left town. "Some people were really into it, and some were like 'What the hell is this?'" at first, Lounsbury recalls. "But then they loved it."
Maybe there's permanence in pop-up culture after all. "I like the idea that, with a pop-up, you can reach out to people who might not have had an appreciation for coffee before, and stay there long enough to change that," says Lounsbury. "In our case, it was like, 'Hey, this is what coffee can taste like and you can ask for this level of quality from the people you usually get coffee from.' It gives people a chance to ask questions, and to become interested in tasting more great coffee."