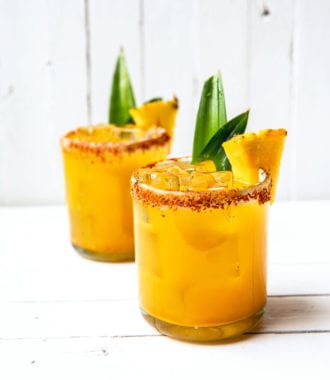 Chef Marcela Valladolid is a self-proclaimed tequila purist, but lately she's been drawn to the spirit's most ubiquitous cocktail application. "I've really been into Margaritas and exploring different ingredients that highlight, not hide, the nuances of Mexico's most emblematic drink," she writes in her new book, Fiestas. In Valladolid's lively reimagining of a classic Marg, tequila's earthy nature is reinforced with the addition of turmeric, while pineapple adds juiciness.
½ cup blanco tequila
½ cup pineapple juice
½ cup fresh lime juice
¼ cup agave nectar, or to taste
1½ tsp. ground turmeric
Tools: shaker, strainer
Glass: double rocks
Garnish: fresh pineapple wedges and pineapple leaves
To rim the glasses, combine 1 Tbsp. of granulated sugar, 1 Tbsp. of chili powder and 2 tsp. of turmeric on a small plate. Moisten the rim of a rocks glass with a lime wedge, then dip the rim in the chili-turmeric sugar. Make sure to cover the wet part of the rim completely. Repeat with the three additional glasses.
To make the cocktail, combine the tequila, pineapple juice, lime juice, agave nectar, and 1½ tsp. turmeric in a shaker. Fill with ice and shake until chilled, then strain evenly into the glasses and garnish.
Serves 4.
Excerpted from FIESTAS: Tidbits, Margaritas & More © 2019 Marcela Valladolid. Reproduced by permission of Houghton Mifflin Harcourt. All rights reserved. Photography © Isabella Martinez-Funcke.
---
Did you enjoy this recipe? Sign up for our newsletter and get our favorite drink recipes of the moment in your inbox every month.