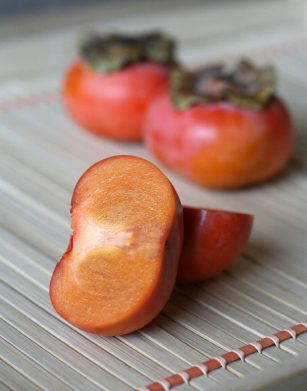 This Persimmon Margarita is a delicious twist on a classic margarita and a great way to make the most of persimmon season. The persimmon blends beautifully with tequila, and the cinnamon-salt garnish brings everything together seamlessly.
1 3/4 oz. tequila reposado
2–3 non-astringent persimmons, such as fuyu
1/2 oz. simple syrup (1:1)
1 oz. fresh lime juice
Tools: salad plate, blender, shaker, strainer
Glass: cocktail
Garnish: cinnamon-salt rim and lime wheel
Rim a cocktail glass with a mixture of cinnamon and salt: spread the mixture on a salad plate, wet the rim with a lime wedge and dip it in the mixture. In a blender or juicer, puree persimmons (skin and all), adding simple syrup to taste. In a shaker, combine tequila, 1 1/2 oz. persimmon puree and lime juice. Shake with ice and strain into the rimmed glass. Garnish with a lime wheel.
Tim Staehling for The Hungry Cat, Los Angeles