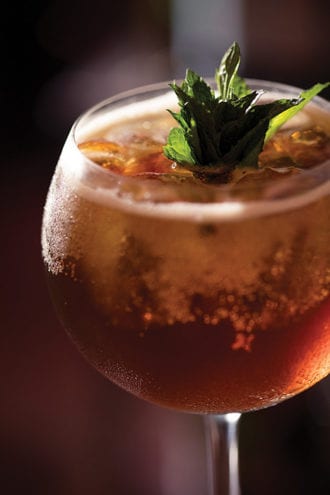 Fresh mint, ginger, and cucumber brighten this simple Argentine export. Cascarilla de cacao is the exterior husk of cacao nibs, sometimes sold as "cacao tea" at specialty merchants and online retailers such as Amazon.
2 oz. cacao-infused Fernet-Branca
1 slice fresh ginger
1 slice fresh cucumber
6 mint leaves
4 oz. chilled cola
Tools: muddler, strainer, fine strainer
Glass: red wine glass or balloon glass
Garnish: fresh mint
Muddle the first 4 ingredients until well mixed, then double strain the liquid into an ice-filled glass and top with chilled cola. Garnish.
Cacao-Infused Fernet-Branca: In a large zip-seal bag, combine 30 grams of cascarilla de cacao (cacao-shell tea) with 750 ml. of Fernet-Branca; press the air from the bag and seal. Using an immersion circulator (sous vide), place the bag in a 60 degrees Celsius water bath for 2 hours (alternately, place in a pot of warm water for two hours), then strain the liquid and rebottle for use. Keeps indefinitely, but the cacao flavor will fade over time.
Pablo Pignatta, Aldo's, Buenos Aires
---
Did you enjoy this recipe? Sign up for our newsletter and get weekly recipes and articles in your inbox.