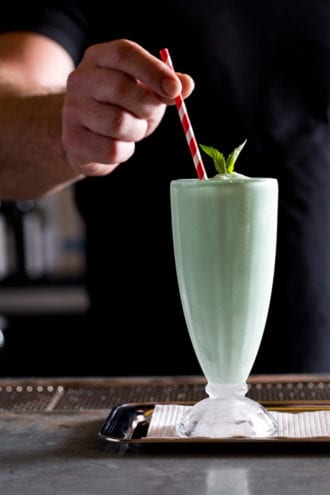 For the Pépé Le Moko Grasshopper, Jeffrey Morgenthaler introduced a couple of new ingredients to make the flavors sing. "I added Fernet for a little more depth and sea salt to counteract the bitterness of the Fernet," he says.
1½ oz. green crème de menthe
1½ oz. white crème de cacao
1 oz. half and half
1 tsp. Fernet-Branca
1 pinch sea salt
4 oz. vanilla ice cream
1 cup crushed ice
Tools: blender
Glass: milkshake
Garnish: mint sprig
Blend all of the ingredients together, then pour into a glass and garnish.
Jeffrey Morgenthaler, Pépé Le Moko, Portland, Oregon
---
Did you enjoy this recipe? Sign up for our newsletter and get weekly recipes and articles in your inbox.