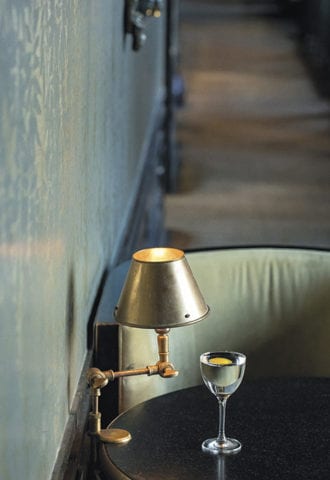 Audrey Sanders created one of the most famous iterations of the equal parts Martini at Pegu Club. Featured in his new book The Martini Cocktail, Robert Simonson explains, "for orange bitters, she used a house mix of Regan's and Fee Brothers—the only orange bitters brands widely available. The combination became known as Feegan's. Saunders is adamant that, since the drink is a mere three ounces in volume, only one dash of Feegan's is needed."
1½ oz. gin (Saunders uses Tanqueray)
1½ oz. dry vermouth (Saunders uses Noilly Prat)
1 dash Feegan's orange bitters (equal parts Fee Brother's orange bitters and Regan's orange bitters)
Lemon twist
Tools: mixing glass, barspoon
Glass: cocktail
Combine the liquid ingredients in a mixing glass filled with ice and stir until chilled, about 30 seconds. Strain into a chilled cocktail glass. Express a lemon twist over the surface of the drink and drop it into the glass.
Reprinted with permission from The Martini Cocktail: A Meditation on the World's Greatest Drink, with Recipes by Robert Simonson, copyright © 2019. Published by Ten Speed Press, an imprint of Penguin Random House.
---
Did you enjoy this recipe? Sign up for our newsletter and get weekly recipes and articles in your inbox.