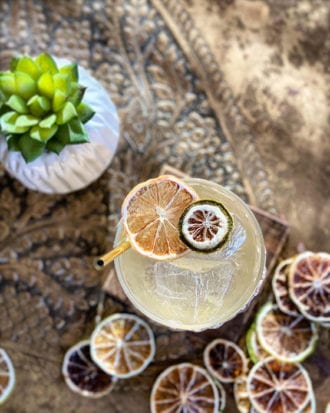 A double dose of smoke inspired the name of this mezcal and scotch cocktail. "I've never not loved a smoky cocktail, and this one certainly hits your nose before it reaches your palate," says Bon Vivants owner Kyle Jones. "The name came from one of my favorite movies from childhood, Pete's Dragon. It's all I could think of when I first sipped it."
1½ oz. Islay Scotch
1 oz. mezcal
½ oz. fino sherry
½ oz. agave syrup
¼ oz. fresh lemon juice
Tools: shaker, strainer
Glass: rocks
Garnish: dehydrated lemon or lime wheel
Combine all of the ingredients in a shaker with ice and shake to chill. Strain into a rocks glass over fresh ice, then garnish.
Kyle Jones, Bon Vivants, Nassau, The Bahamas
---
Did you enjoy this recipe? Sign up for our newsletter and get weekly recipes and articles in your inbox.