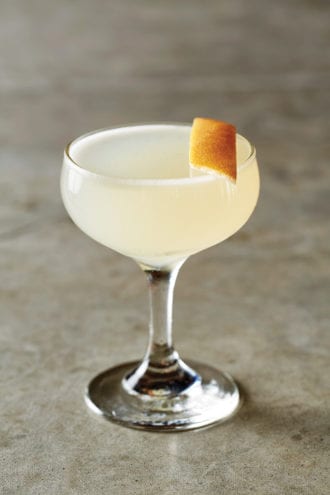 This cocktail from Ramen Shop's former bar director Chris Lane is floral and aromatic, with flavors of vanilla, pears and absinthe.
1½ oz. pisco
½ oz. pear brandy (Ramen Shop uses the brandy from nearby St. George Spirits)
¾ oz. fresh lemon juice
¼ oz. vanilla syrup
¼ oz. simple syrup (1:1)
2 dashes absinthe
Tools: shaker, strainer
Glass: coupe
Garnish: grapefruit twist
Shake all the ingredients with ice and strain into a chilled glass. Twist a piece of grapefruit peel over the drink and use as garnish.
Vanilla Syrup: Combine 1 cup of granulated sugar with 1 cup of water and stir in a saucepan over medium heat until the sugar has fully dissolved; remove from heat. Split a vanilla pod lengthwise and add to the syrup; let steep for 24 hours, then remove the vanilla and bottle the syrup for use. Keep refrigerated for up to 2 weeks.
Chris Lane, Ramen Shop, Oakland, California
---
Did you enjoy this recipe? Sign up for our newsletter and get our favorite drink recipes of the moment in your inbox every month.