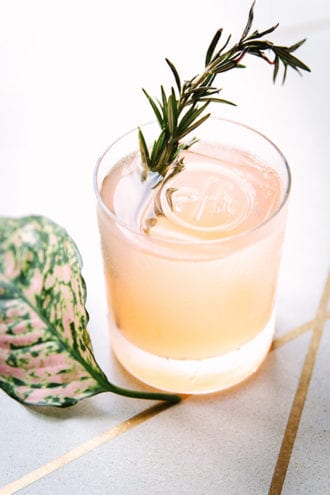 Referencing both the classic Paloma cocktail and the Indian Paintbrush from Garage bar in Austin, the Tasteful Nudes is a prime example of Matthew Roedel's mixing prowess. "I love the grapefruit/rosemary combination and thought that adding tequila to the mix would make for something quintessentially Southwestern," he says of the drink. "Toasting the rosemary added a pleasant smokiness as well offering a striking visual presentation. From there, I thought the Aperol was a great way to marry the citrus-y/sweet elements of the drink to the bitter, vegetal aspects of the agave and the aromatics."
1½ oz. blanco tequila
1 oz. pink grapefruit juice
¾ oz. rosemary simple syrup
½ oz. fresh lime juice
½ oz. Aperol
2 dashes Bittermens Hopped Grapefruit Bitters
Tools: shaker, strainer
Glass: rocks
Garnish: 1 sprig of rosemary, toasted
Add all the ingredients except the rosemary to a shaker, shake and strain into an ice-filled collins glass. Toast the rosemary sprig with a kitchen torch until smoldering and place into the glass to garnish.
Rosemary Syrup: Place 6 large sprigs of rosemary in a heat-proof quart container. Cover with 2 cups of near-boiling hot water. Let sit for 15-20 minutes. Remove the rosemary and add 2 cups of granulated sugar. Stir until fully dissolved. Fine-strain into a clean glass bottle or jar and refrigerate for up to 2 weeks.
Matthew Roedel, The Public House, Bay City, Michigan
---
Did you enjoy this recipe? Sign up for our newsletter and get our favorite drink recipes of the moment in your inbox every month.