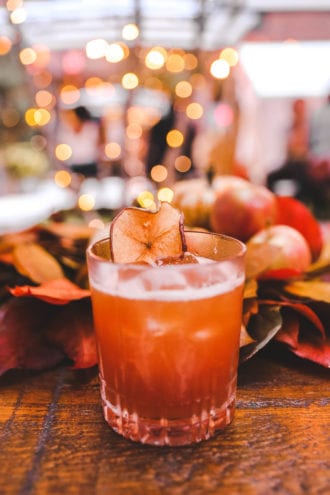 It's prime apple-picking season, and if you're wondering what to do with that haul of fresh fruit, try making an apple cinnamon shrub. The versatile ingredient lends a tangy spice to this fall cocktail.
1½ oz. whiskey (Wallach uses Jack Daniels)
½ oz. Cynar
¾ oz. cinnamon apple shrub
¾ oz. fresh lemon juice
1 dash Angostura bitters
Tools: shaker, strainer
Glass: rocks
Garnish: dried apple slice
Add all the ingredients to a shaker with ice and shake. Strain into a rocks glass over fresh ice. Garnish.
Cinnamon Apple Shrub
1 cup Macintosh apples
1 cup Gala apples
1 cup Honeycrisp apples
1 cup Demerara sugar
1 cup apple cider vinegar
4 cinnamon sticks, crushed
1 nutmeg, cracked
10 cloves
Chop the apples and add them to a container with the sugar and spices. Let them macerate for 3 days. Add the apple cider vinegar and mix together. Strain the apples out of the mixture and store in the refrigerator when not in use.
Gary Wallach, Harold's, New York City
---
Did you enjoy this recipe? Sign up for our newsletter and get our favorite drink recipes of the moment in your inbox every month.