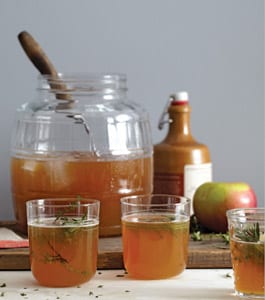 A riff on a traditional Wassail recipe, which is a hot mulled cider shared on Epiphany (January 6) and sipped while singing and toasting the season, this apple cider punch is sure to inspire merriment.
½ cup pure maple syrup
8 sprigs rosemary
8 sprigs thyme
4 cups applejack
2 cups apple cider
2 bottles alcoholic sparkling cider
Tools: saucepan, spoon
Glass: punch
Garnish: rosemary sprigs
Combine maple syrup, rosemary and thyme in a saucepan and bring to a simmer over medium heat. Remove from heat and let syrup sit to cool to room temperature. Remove the herbs and discard. Stir cooled syrup, applejack, and apple cider together in a punch bowl. When ready to serve, stir in the sparkling cider and add ice. Ladle into punch cups, garnish and serve.
Maria Del Mar Sacasa, Winter Cocktails, Quirk Press, 2013