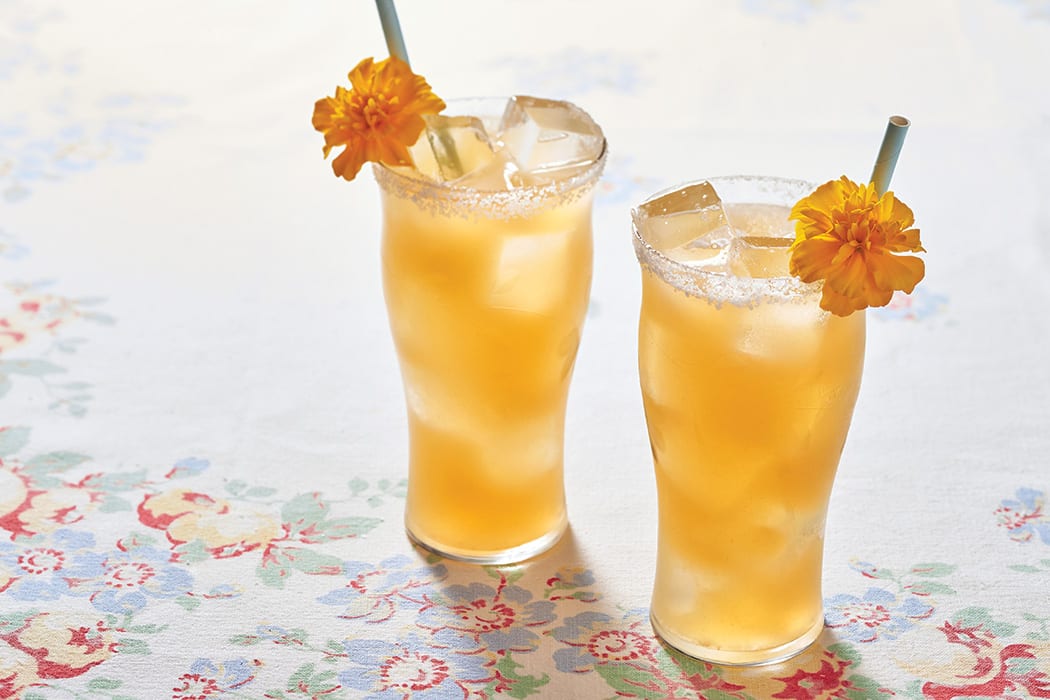 A "total beach cocktail" is how Daniel Miller, beverage manager for the Philly-based Vedge Restaurant Group, sums up the vibrantly tangy Going for Gold. With an eclectic selection of wines under his purview, Miller gets experimental with cocktail applications. "Orange wine works great as a cocktail ingredient," he says. "It has a ton of different flavor profiles like orange peel, golden raisin, almond and dried fruit. It provides a nice acidity, with a complexity that a high-acid white wine cannot."
1¼ oz. orange wine (V Street uses Cardedu "Nùo" Vermentino)
1½ oz. manzanilla sherry
½ oz. ginger syrup
1 oz. tangy pineapple syrup
½ oz. fresh lime juice
2 dashes Angostura bitters
Chilled soda water
Tools: shaker, strainer, fine strainer
Glass: Collins
Garnish: salt rim, marigold (or other edible flower)
Rim your glass with salt, then fill with ice. Add the first 6 ingredients to an ice-filled shaker. Shake vigorously, then double strain into the prepared glass. Top with soda water and briefly stir.
Ginger Syrup: Combine fresh ginger juice with an equal amount of sugar by weight, stirring until the sugar dissolves. Bottle and refrigerate, using within 2 weeks.
Tangy Pineapple Syrup: In a saucepan, combine 15 oz. of fresh pineapple juice, ½ cup of granulated sugar, 2½ oz. of distilled white vinegar, and a small pinch of salt. Heat and stir until the sugar is dissolved. Cool and bottle for use within 2 weeks.
Daniel Miller, V Street, Philadelphia
---
Did you enjoy this recipe? Sign up for our newsletter and get our favorite drink recipes of the moment in your inbox every month.