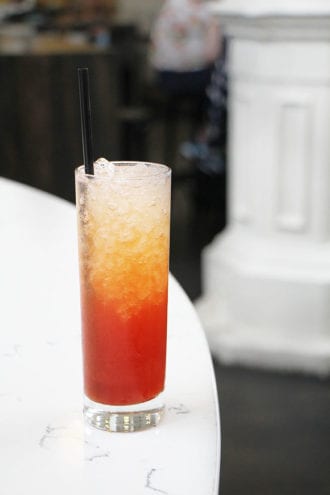 A tropical highball to use up the last of summer's rosé stock.
1½ oz. Cocchi Rosso
½ oz. mezcal
½ oz. passion fruit syrup
½ oz. fresh lemon juice
3 dashes Angostura bitters
Dry Brut Rosé, chilled
Tools: shaker, strainer
Glass: Collins
Dash the Angostura bitters at the bottom of a Collins glass. Combine the Cocchi, mezcal, passion fruit syrup and lemon juice in a shaker and shake with ice. Fill the glass with crushed ice. Strain the cocktail into the Collins glass. Top with more crushed ice and the rosé.
Passion Fruit Syrup: Combine cups of passion fruit pulp (Goya is a good option), 2 cups of sugar and 1 cup of water in a saucepan and bring to a boil. Reduce the heat to a simmer and stir until the sugar is fully dissolved. Let cool to room temperature. Strain. Bottle and refrigerate for up to 2 weeks.
Derek Brumfield, The Mayhaw at St. Roch Market, New Orleans 
---
Did you enjoy this recipe? Sign up for our newsletter and get our favorite drink recipes of the moment in your inbox every month.