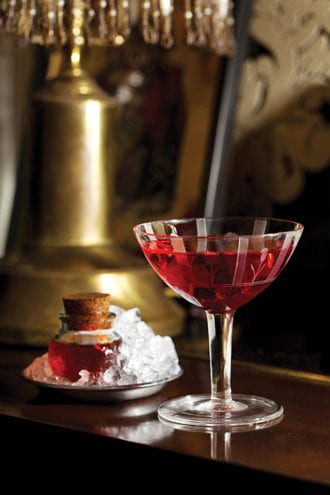 Highlighting flavors of northern Italian spirits from the early 20th century ("Novecento" is Italian for "20th Century"), this drink combines Campari and maraschino liqueur with Jerry Thomas Project's own "Vermouth del Professore," which is inspired by historic recipes for turn- of-the-century fortified wines (you can sub in a Turin-style vermouth, such as Cocchi Vermouth di Torino).
1½ oz. Cognac
1 oz. Cocchi Vermouth di Torino
1 oz. Campari
½ tsp. maraschino liqueur
½ tsp. fresh lemon juice
1 dash Angostura bitters
1 dash Peychaud's bitters
Tools: barspoon, strainer
Glass: coupe
Garnish: lemon twist
Combine all of the ingredients in mixing glass and fill with ice. Stir to chill. strain into a chilled glass, twist lemon peel over drink and use as garnish.
Leonardo Leuci, The Jerry Thomas Project, Rome
---
Did you enjoy this recipe? Sign up for our newsletter and get weekly recipes and articles in your inbox.