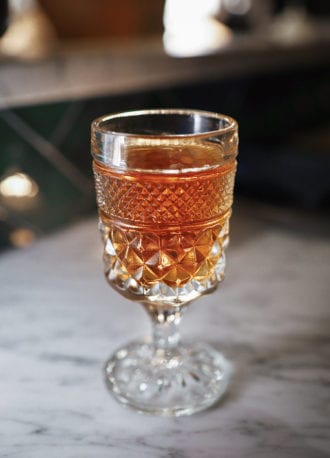 With a 1,000-plus bottle selection and an approachable, whisky-centric cocktail menu, Scotch Lodge in Portland, Oregon, is one of our 2020 Imbibe 75 Places to Watch. Their cocktail menu includes originals and twists on classics, such as this smoky and spiced Brooklyn cocktail riff.
1½ oz. mezcal (Scotch Lodge uses Los Vecinos)
½ oz. Scotch (Scotch Lodge uses Glenmorangie 10 year)
½ oz. Amer liqueur
¼ oz. Bénédictine
¼ oz. coriander-infused dry vermouth
Tools: barspoon, strainer
Glass: Nick & Nora
Garnish: none
Stir all of the ingredients with ice to chill, then strain into a glass.
Coriander-infused Dry Vermouth: Add 15 grams of crushed coriander seed to one 750 ml. bottle of dry vermouth into a sealed freezer bag and submerge in a very hot water bath for 15 minutes (or sous vide at 145 degrees F). Strain and rebottle for use.
Christina Acosta, Scotch Lodge, Portland, Oregon
---
Did you enjoy this recipe? Sign up for our newsletter and get weekly recipes and articles in your inbox.