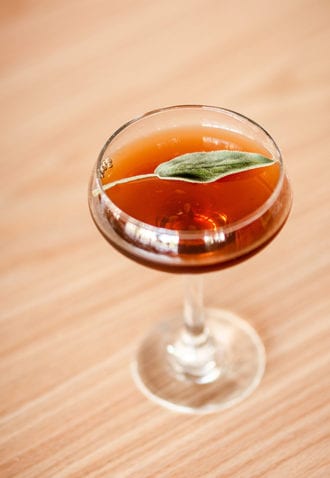 "This nightcap plays with the unbeatable aromatic combination of sage and Averna, lightened up by the addition of cucumber," says Proof bartender Karli Sandos of this Boulevardier riff.
1½ oz. rye whiskey
½ oz. Averna
¾ oz. sweet vermouth
2 dashes sage tincture
3 cucumber slices
Tools: mixing glass, muddler, barspoon, strainer, fine strainer
Glass: coupe
Garnish: disciplined sage leaf
In a mixing glass, muddle the cucumber slices. Add the remaining ingredients with ice and stir. Double strain into chilled coupe and garnish.
Sage Tincture: Chiffonade 12 sage leaves and add to 1 cup of high-proof spirit (Proof uses Plymouth Navy Strength gin). Rest for 18 to 24 hours, add one cup water and strain.
Karli Sandos, Proof, Des Moines, Iowa
---
Did you enjoy this recipe? Sign up for our newsletter and get weekly recipes and articles in your inbox.