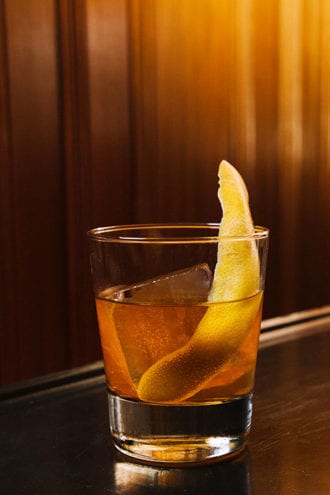 The Navy Strength Old Fashioned is the cornerstone of the cocktail menu at Queen Mary Tavern in Chicago. "It's simple, elegant, strong, and a bit counterintuitive, but it's delicious," says general manager Dan Smith. Despite the unusual combo of gin and rum, "it's nothing but a classic Old Fashioned [in format], though we do add one more minor touch: a tiny bit of salt, in the form of saline solution, not enough to make the cocktail salty—just enough to make all the ingredients taste more. So it's a nice balance of the familiar with the strange."
1 oz. Jamaican rum (Smith uses Smith & Cross)
1 oz. Navy-strength gin (Smith recommends Hayman's Royal Dock or Plymouth Navy Strength)
⅛ oz. rich Demerara syrup (2:1)
2 dashes Angostura bitters
1 light dash saline solution (150g salt : 850g water, blended in a blender until dissolved)
Tools: barspoon, strainer
Glass: double rocks
Garnish: orange peel
Combine all of the ingredients in a mixing glass with ice and stir to chill. Strain into a double rocks glass over one large ice cube. Express an orange peel over the top of the drink and use as a garnish.
Dan Smith, Queen Mary Tavern, Chicago
---
Did you enjoy this recipe? Sign up for our newsletter and get our favorite drink recipes of the moment in your inbox every month.