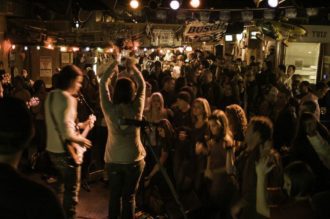 Nashville may have a blossoming cocktail scene (check out our Sept/Oct 2013 issue for more on that), but there's another uniquely Nashvillian brand of watering hole in Music City: the honky-tonk. Rowdy crowds, cold beer, loud, live country music and, as Benjamin Goldberg of The Patterson house put it, "cowboy boots, cowboy hats and Southern accents," are the makings of any good honky-tonk, and a prime location near Ryman Auditorium along lower Broadway (aka honky-tonk row) doesn't hurt. We asked a few Nashville bartenders to name their lower Broad favorites—here are the top three picks.
Robert's Western World
In Nashville, Robert's Western World is a go-to honky-tonk. Even Patterson House's Benjamin Goldberg, who also owns Paradise Park (see below), says that when he's not at Patterson or Paradise, you'll find him at Robert's. "The band, Brazilbilly, plays classic country, and the beer is cold and cheap," he says. And Nashville native and Husk bartender Shannon Wright gets downright poetic when she thinks of a night out at Robert's. "You can't even think of Nashville without thinking of Robert's," she says. "You can twirl around the dance floor with a 75-year-old man or a 21-year-old. When friends return home for weddings or holidays we always go, plus, a grilled cheese and fries will set you right when you've enjoyed yourself too much!"
Paradise Park Trailer Resort (pictured)
Of his own honky-tonk, Goldberg says, "Paradise is always good when you want to have a rowdy time." Though that's true of just about any honky-tonk, Paradise Park is by all accounts a bona fide good time. Opened in 2007, Paradise Park is a relative newcomer on lower Broad. However, what it lacks in patina it more than makes up for in deliciously divey food, dayglow neon signs and overall kitsch.
Tootsie's Orchid Lounge
Tootsies's is to Paradise Park what the donut is to the cronut. In other words, it's the unparalleled original. Though she may not be the coolest or the hot-spot right now, no one talks about honky-tonks without a nod to the grand dame. Known as "Mom's" until 1960 when it was purchased by Tootsie Bess, this storied bar is not to be missed. Waylon Jennings, Willie Nelson and Patsy Cline all drank there, and that alone is reason enough to do the same.