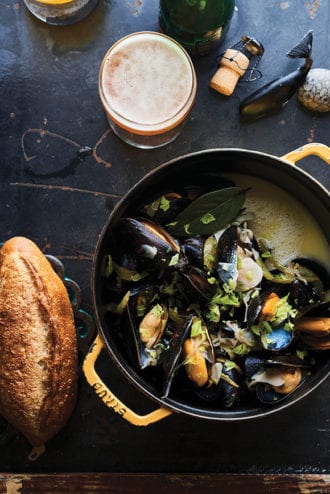 Inspired by European beer halls and hearty farmhouse fare, The Publican in Chicago experiments with classic, seasonal dishes to complement an extensive international beer list. Chef Paul Kahan says they tinkered with 50 or 60 different preparations for mussels, searching for the right accompaniment. "The winner was a variation using gueuze, a sour Belgian beer that's a little cidery and a little musty and has just the right amount of acidity that we balance with a good amount of butter, garlic, thyme and chile flakes," says Kahan.
2 Tbsp. unsalted butter
1 Tbsp. sliced celery
1 Tbsp. sliced garlic
1 Tbsp. sliced shallot
1 bay leaf
1 tsp. thyme leaves
½ tsp. chile flakes
2 lbs. mussels
¼ cup gueuze beer
1 Tbsp. fresh lemon juice
2 Tbsp. chopped celery leaves or lovage
Pinch of sea salt
In a medium pot—ideally something ceramic or cast-iron that can go right onto the table—heat 1 tablespoon of the butter over high heat. When the butter foams, add the celery, garlic, shallot, bay leaf, thyme and chile flakes and sweat for 1 minute.
Add the mussels to the pot, toss all the ingredients together, pour in the gueuze and cover the pot. Cook just until the mussels are open, about 3 to 5 minutes.
Take off the lid, stir in the remaining butter and finish the mussels with a pinch of salt, the lemon juice and celery leaves. Serve piping hot with hunks of baguette.

Reprinted with permission from Cheers to the Publican, Repast and Present: Recipes and Ramblings from an American Beer Hall. Text by Paul Kahan. Copyright 2017, Lorena Jones Books, an imprint of Penguin Random House LLC.
---
Did you enjoy this recipe? Sign up for our newsletter and get our favorite drink recipes of the moment in your inbox every month.