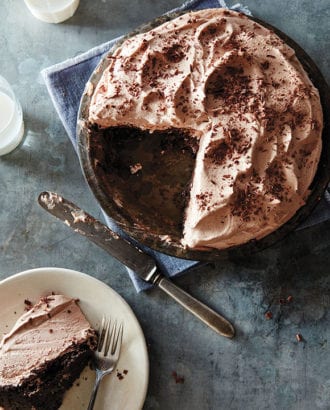 Food52's Cristina Sciarra blends the traditions of Mississippi mud pie (a chocolate crust topped with pudding, cake, or both—and whipped cream) with the gooey classic mud pie (coffee ice cream-filled crust and drizzled with fudge). Sciarra added her own special twist to the mashup: the middle layer is made with sour raspberry beer for a sweet and fruity touch.
Pie Crust
10 oz. (280 g.) chocolate cookies (such as Nilla chocolate wafers or shortbread)
2 Tbsp. confectioners' sugar
1 Tbsp. all-purpose flour
1 Tbsp. espresso powder
¼ tsp. kosher salt
¼ cup (60g) unsalted butter, melted
3 tsp. coconut oil, melted
3½ ounces (100g) dark chocolate (70% cacao), chopped
To make the pie crust, heat the oven to 350°F (175°C). Place a deep-dish, 9-inch (23 cm) pie plate nearby. Process the cookies in a food processor until reduced to fine crumbs, about 30 seconds. Add the confectioners' sugar, flour, espresso powder, and salt and pulse to combine. With the processor running, slowly pour in the melted butter and 2 teaspoons of the coconut oil and process until combined, about 30 seconds. Evenly press the crust into the bottom and sides of the pie plate. Bake until the bottom is firm, about 25 minutes. Let cool for at least 30 minutes.
Meanwhile, bring a pot with 1½ inches (4 cm.) of water to a simmer. Set a large, heatproof bowl with the remaining 1 teaspoon coconut oil and the chocolate on top of the simmering water until the chocolate melts. Off the heat, whisk together the coconut oil and chocolate until smooth. When the pie crust is cool, drizzle the melted chocolate all over the bottom and sides. Let cool for at least 1 hour.
Whipped Cream
3 Tbsp. unsweetened cocoa powder
2 Tbsp. granulated sugar
1½ cups (355ml) heavy cream, well chilled
To make the whipped cream, in a large bowl, combine the cocoa powder and granulated sugar. Whisk in ¼ cup (60 ml.) of the heavy cream. When the cocoa powder and sugar are dissolved, add the remaining 1 ¼ cups (295ml) heavy cream. Beat on medium-high speed until soft peaks form, about 2 minutes. Refrigerate while you make the ice cream and up to 1 day.
Beer Ice Cream
1 (750 ml.) bottle Lindemans Framboise beer
1 (14-oz./397 g.) can sweetened condensed milk
1 Tbsp. unsweetened cocoa powder
2 cups (475 ml.) heavy cream, well chilled
2 ounces (55 g.) dark chocolate (70% cacao) or cocoa nibs, for garnish
To make the ice cream, bring the beer to a boil in a wide saucepan over medium-high heat. Boil until the beer is reduced to just ½ cup (120 ml.), about 40 minutes. (The beer syrup can be refrigerated for up to 1 day.)
Pour the condensed milk into a large bowl. Stir in the beer syrup and the cocoa powder. Pour the heavy cream into another large bowl and beat on medium-high speed until stiff peaks form, 6 to 8 minutes. Mix a few spoonfuls of the whipped cream into the condensed milk mixture. Fold in the remaining whipped cream. Don't over mix.
Spoon the ice cream into the pie crust and smooth the top. Cover the ice cream with plastic wrap and freeze at least 3 hours, or up to 2 days. Just before serving, spoon the chocolate whipped cream on top of the frozen beer ice cream. You can use a large spoon and make clouds, or put the whipped cream into a pastry bag and pipe swirls. To garnish, shave the chocolate with a vegetable peeler or sprinkle with cocoa nibs. Cut into wedges and serve. Serves 8 to 10.
Tip: There's an unavoidable moment you have with every ice cream pie, cake, or bar you make: it's you and your knife against a veritable ice cube, melting imminent. Lucky for the integrity of your dessert and your stress level, Nicole Rucker, a Los Angeles pastry chef and blue ribbon–winning pie maker, offers a "hot" tip in Lucky Peach: "When you're ready to serve, soak a kitchen towel in very hot water and then unfold the towel so it lays flat. Place the pie on top of the towel—this prevents it from slipping and also releases the pie from the bottom of the frozen pie plate. Slice the pie with a hot, wet knife."
Reprinted with permission from Food52 Ice Cream and Friends: 60 Recipes and Riffs for Sorbets, Sandwiches, No-Churn Ice Creams, and More by the Editors of Food52, copyright © 2017. Published by Ten Speed Press, an imprint of Penguin Random House LLC.
---
Did you enjoy this recipe? Sign up for our newsletter and get our favorite drink recipes of the moment in your inbox every month.