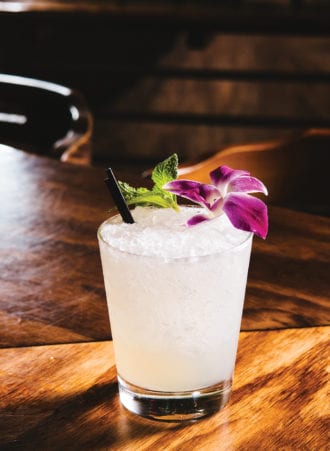 Some drink coconut water to stay hydrated—others because it mixes great with booze. Our 2017 Bartender of the Year, Steven Liles from Smuggler's Cove, is among the latter with this original recipe.
3 oz. fresh coconut water
1½ oz. gin
½ oz. fresh lemon juice
¼ oz. honey syrup (1:1)
¼ oz. yellow Chartreuse
1 oz. seltzer
1 dash orange bitters
Tools: blender
Glass: drained small coconut shell
or double Old Fashioned
Garnish: orchid and mint sprig
Combine the ingredients in a blender and add 10 oz. of crushed ice. Blend for 10 seconds, then pour into a coconut shell or double Old Fashioned glass; garnish.
Steven Liles, Smuggler's Cove, San Francisco
---
Did you enjoy this recipe? Sign up for our newsletter and get our favorite drink recipes of the moment in your inbox every month.