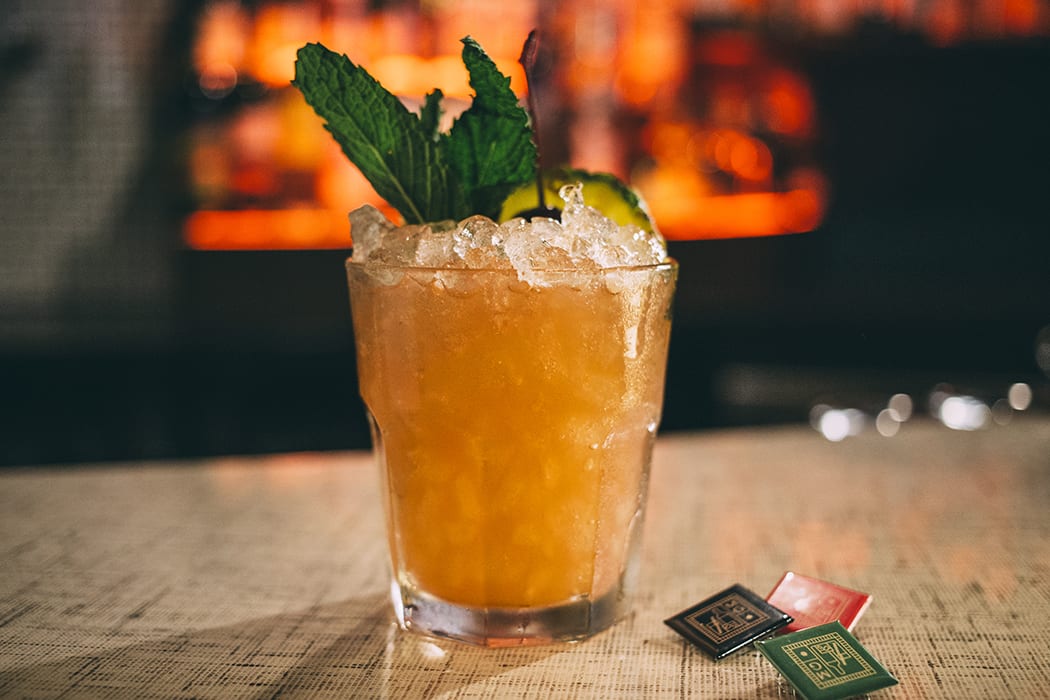 In Chicago, Moneygun's take on the classic Mai Tai employs a hibiscus-infused curaçao. "The flavor is subtle, but you'll get a little leafy cranberry vibe if you search for it," says co-founder Will Duncan.
1 oz. amber rhum agricole (Moneygun uses Neisson Élevé Sous Bois)
1 oz. Jamaican rum (Moneygun uses Hamilton Jamaican Pot Still Black Rum)
½ oz. hibiscus-infused curaçao
¾ oz. fresh lime juice
¾ oz. orgeat
2 dashes Angostura bitters
Absinthe, to mist
Tools: shaker
Glass: 10 oz. tumbler
Garnish: pineapple and cherry, sprig of mint misted with absinthe
In a shaker, combine all the ingredients with a half-scoop of crushed ice. Shake to chill, then pour into the tumbler and top with more crushed ice. Garnish.
Hibiscus-Infused Curaçao: Wrap 2 oz. of dried hibiscus in cheesecloth, then place the bundle in a quart-size jar and add 1 750 ml. bottle of curaçao; let the mix soak for 20 minutes, then remove the hibiscus bundle and bottle the infusion.
Will Duncan, Justin Anderson and Dustin Drankiewicz, Moneygun, Chicago
---
Did you enjoy this recipe? Sign up for our newsletter and get weekly recipes and articles in your inbox.