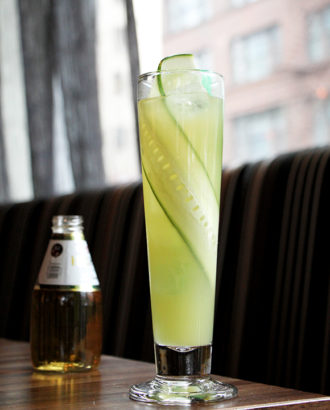 Tall, cool and refreshing, this summery beer cocktail from Sable Kitchen & Bar uses a light lager to add effervescence.
1 oz. mezcal (Del Maguey Vida)
1 oz. reposado tequila (Corralejo)
¾ oz. ginger syrup
½ oz. honey
¾ oz. fresh lime juice
3 cucumber wheels
Light lager or pilsner
Tools: shaker, strainer, muddler
Glass: Pilsner glass
Garnish: cucumber ribbon
Muddle the cucumber wheels in the bottom of a shaker tin with the honey and ginger syrup. Add the lime, tequila and mezcal. Shake with ice until chilled. Fine strain into a clean pilsner glass over fresh ice. Top with light lager or pilsner beer (Sable uses Miller Highlife).
Mike Arlesic, Sable Kitchen & Bar, Chicago