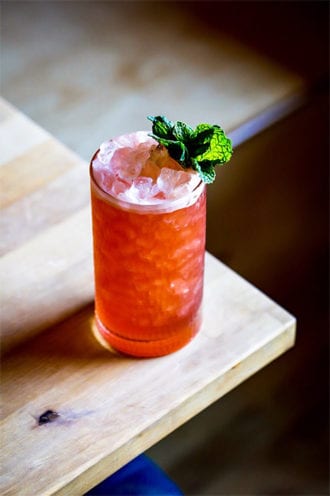 With a sweet-tart personality reminiscent of a classic Jungle Bird, this mezcal cocktail hits all the right flavor notes. "We set out to make something robust and tropical that didn't end up on the sweet side, plus I love the pineapple juice addition because it makes everything go down smooth," says owner Paul Shanrock.
1½ oz. mezcal
¾ oz. Campari
½ oz. PX sherry
¼ oz. triple sec
1½ oz. pineapple juice
½ oz. fresh lime juice
4 dashes Angostura bitters
Tools: shaker, strainer
Glass: Collins
Garnish: mint bundle
Combine ingredients in a shaker tin with ice and shake to chill. Strain into a Collins glass over crushed ice and garnish.
Paul Shanrock, Stampede Cocktail Club, Seattle
---
Did you enjoy this recipe? Sign up for our newsletter and get weekly recipes and articles in your inbox.