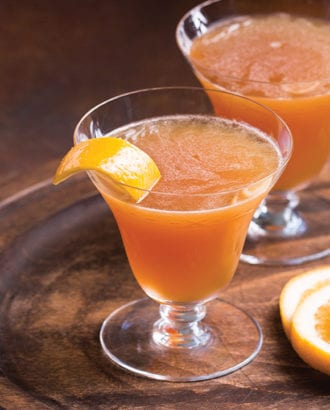 Common lemons (usually Eureka or Lisbon lemons) have an acidic bite. It's this spark that brightens many sour cocktails, but sometimes that edge could use a little something extra. Meyer lemons—thought to be a cross between common lemons and mandarin oranges, and available seasonally starting in early winter—lend a milder touch to cocktails, with a heady fragrance and sweetness that meshes well with the crispness of tequila and warmth of cinnamon.
2 oz. blanco tequila
¾ oz. fresh Meyer lemon juice
½ oz. cinnamon-infused agave nectar
¼ oz. Averna
Tools: shaker, strainer
Glass: cocktail
Garnish: Meyer lemon twist
Shake the ingredients with ice, then strain into a chilled glass. Garnish.
Cinnamon-Infused Agave Nectar: In a saucepan over medium-low heat, toast 5 or 6 cinnamon sticks until lightly browned and fragrant. Add 1 cup of water and 1 cup of agave nectar, then stir to combine. Bring to a simmer, then cover and remove from the heat; let cool to room temperature. Strain the syrup and transfer to a container; keep refrigerated for up to 2 weeks.
Chase Johnson, The Lobby Bar at the Ace Hotel Pittsburgh