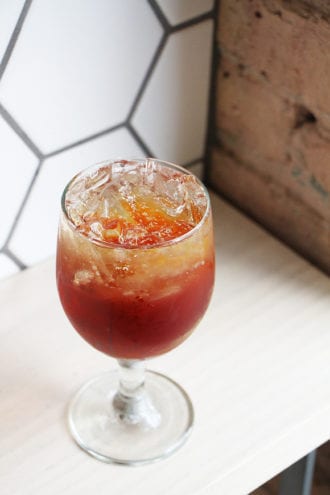 Tart cascara tea sets the tone for this refreshing fizz from Chicago's Metric Coffee. The new lime-flavored Topo Chico is what they use at the shop, but the original version works well, too.
3 oz. brewed cascara tea
1 oz. vanilla syrup
Top with Topo Chico lime (or other sparkling mineral water)
Tools: barspoon
Glass: tulip
Garnish: lime wedge (optional)
Combine the cooled tea and syrup in a glass with ice. Stir to combine. Top with sparkling mineral water. Optional: Add a squeeze of lime for a little extra acidity.
Metric's Cascara Tea: Combine 3 oz. of dry cascara with 1 cup of cold, filtered water in a container and let steep at room temperature for 24 hours. Strain the husks out of the mixture and store in the refrigerator.
Metric Coffee, Chicago
---
Did you enjoy this recipe? Sign up for our newsletter and get our favorite drink recipes of the moment in your inbox every month.